The Most Anticipated Crime Books of 2022: Summer Reading Edition – CrimeReads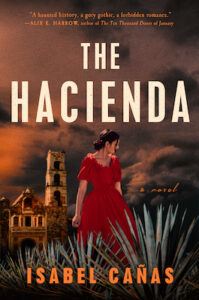 It may be the fact that this CrimeReads editor moved back to Texas, but did anyone else feel like summer started months ago?!? Or maybe I just felt that way because I started reading for the summer preview back in February, to make sure I dedicated plenty of time to picking out the cleverest, twistiest, most puzzling and pulse-pounding mysteries I could find for your poolside consumption over the next few months. Let's see which is higher—this year's record temperatures, or the number of books on your to-read list after scrolling through the following. (Also because this preview was assembled by a former bookseller, the old joke about booksellers recommending emotionally devastating titles as beach reads does apply but only for, like, a third of the titles on this list.)
Keep an eye out over the next few weeks for spin-off previews highlighting some favorite crossover genres, including scifi and fantasy, historical fiction, and our latest obsession, horror.
__________________________________
MAY
___________________________________
Isabel Cañas, The Hacienda
(Berkley)
Cañas brings a powerful gothic sensibility to the aftermath of the Mexican Revolution, as her protagonist, Beatriz, desperate for stability and security, follows a mysterious man to his countryside manor and ignores the warning signs that something far more sinister may be happening on the estate. A perfect read for du Maurier devotees with a taste for new locales and cultures. –DM
Louise Welsh, The Second Cut
(Canongate)
The author of cult classic The Cutting Room returns, as Rilke the auctioneer returns to once again muddle about in the filth and muck of the underworld in the most delightful way. His friend Jojo is dead, just after telling Rilke about a potential haul at an old manor house, and given Jojo's dissolute lifestyle and the police neglect of the case, it's up to Rilke to find the person responsible. –MO
Hernan Diaz, Trust
(Riverhead)
The brilliant title of Hernan Diaz's new novel of the stock market refers to not only financial trusts and human trust, but also the trust that a reader has for a manipulative narrator. I'm a huge fan of stories that explore the nature of narrative itself, so I couldn't resist the structure of this innovative tale. Trust is told first as a memoir by tycoon Benjamin Rask, aimed at setting the record straight after being blamed for the calamitous fall of the stock market in 1929. Next, we hear from several other perspectives, each upturning everything we thought we knew about the previous one, including the perspective of Helen Rask, Benjamin's enigmatic spouse, known outwardly for her charity but harboring a shocking secret of her own. Trust stands alongside the best of layered fiction, including the Cuban film El Otro Francisco and Gordon MacAlpine's The Woman with the Blue Pencil (my two personal faves that I will never stop recommending). –MO
Sarai Walker, The Cherry Robbers
(Harper)
Walker's new novel unspools the history of Sylvia Wren, a New Mexico-based artist who is on the verge of being exposed by a dogged journalist turning up pieces of her past as a firearms heiress outrunning a dangerous family legacy. The story takes one interesting new turn after another, gathering into a heady mix of gothic fiction and incisive art thriller. –DM
Fernando Flores, Valleyesque
(FSG)
Fernando Flores writes some of the most inventive, genre-defying fiction around, and yet I will still try to claim him for crime fiction because his stories are, at the very least, deeply disturbing. Valleyesque ranges across genres, forms, and time periods, featuring a dying Frederic Chopin, a young Lee Harvey Oswald, a psychedelic Zapata tee shirt, a used clothing store with its own agenda, and many more bits of reality woven into the surreal. This is the trippiest book of the summer. –MO
Audrey Magee, The Colony
(FSG)
Audrey Magee's stirring new novel The Colony is about two outsiders–a painter and a scholar–who journey to a remote, isolated island off the coast of Ireland in 1979. Mr. Lloyd wants to capture its beauty, away from the erupting violence on the mainland, while Jean-Pierre Masson, who has studied the island, is adamant that it should remain undisturbed. But the islanders are in the middle of their own personal reckonings, as they figure out their place in their home, and the country at large. A breathtaking and poignant story about language, art, and cultural identity. –Olivia Rutligliano, CrimeReads Associate Editor
B.A. Shapiro, Metropolis
(Algonquin)
In B. A. Shapiro's multi-character drama Metropolis, several people make their homes in a shabby storage unit in the center of Boston, paying rent under the table to the kindly manager without the distracted owner ever catching on—that is, until the day when a rich man's fall down the elevator shaft changes everything. –MO
Abi Ishola-Ayodeji, Patience is a Subtle Thief
(HarperVia)
Patience is also the name of our heroine–Patience Adewale, the daughter of Nigerian Chief Kolade Adewale, who leads an isolated life in her family's mansion, wondering why her father and uncle banished her mother, years ago, and if she'll ever find a place where she feels she truly belongs. Life is uneasy, uncertain, and so she begins to search for her mother. But her investigation takes a turn when she heads to Lagos to attend university, she reunites with a cousin, Kash, and his friend Emeka, who are small-time thieves about to pull off a big score. Enlisting Patience and Emeka's brother in their heist seems like the perfect plan at first, but soon, Patience finds herself in an unpredictable situation, with only her own heart for guidance. –OR
Anne Heltzel, Just Like Mother
(Tor/Forge)
Heltzel's Just Like a Mother is an unsettling account of two cousins, united decades after their departures from a cult upbringing, now discovering one another as adults, one of them determinedly single and without children, the other having made a fortune in the fertility industry. The tension between them, built on such a complex foundation, is intoxicating, just like the creeping sensation that the Catskills town where they're spending their time is hiding something. –DM
Camila Sosa Villada, Bad Girls
Translated by Kit Maude
(Other Press)
Like Fiona Mosley's Hot Stew, Bad Girls is more of a book about found family and societal othering than a book about sex workers (because sex workers are people and have all the complexities of ordinary lives, ok). Camila Sosa Villada has written a beautiful, queer, magical tale of trans sex workers who find a baby and decide to raise the child together under the advice of their nearly 200-year-old leader. Perfect for those who enjoy dark fantasy, queer fiction, and communal living. –MO
Jason Rekulak, Hidden Pictures
(Flatiron)
I am always down to read a new take on the perennially-creepy "child freaks out nanny" story (I watched The Innocents a LOT as a child). In Hidden Pictures, Jason Rekulak has crafted a beautiful, terrifying, and surprisingly kind take on this classic setup. Mallory Quinn, newly sober and ready to get her life back together, takes a live-in job caring for a delightful five-year-old, who just so happens to draw increasingly disturbing pictures of a murder that may or may not have happened on the property long before. Can Mallory save her charge? And will this turn into the next "momo"? Only time (and my ability to read very very quickly) will tell. –MO
Moses McKenzie, An Olive Grove In Ends
(Little Brown)
Sayon Hughes grew up in Ends, a rough neighborhood in Bristol, but all he wants to do is escape and marry Shona, the girl he has loved since he was a child. Dealing drugs with his cousin Cuba to make ends meet, he thinks he's finally found a way to make a clean break when a fight breaks out and he is implicated in a terrible crime. Torn between the life he has as a criminal and the life he wants with Shona, Sayon must find his way. An Olive Grove in Ends is a story about family, loyalty, mistakes—but most of all, love. –OR
May Cobb, My Summer Darlings
(Berkley)
A stranger comes to town, in Cobb's exhilarating new thriller. In this case the town is in East Texas, home to three women who keep each other sane with daily drinks and conversation, the latter of which begins to focus on a man newly arrived in the neighborhood. And of course, it turns out he has secrets. My Summer Darlings is a smart, fun thriller about obsession and friendship. –DM
Karen Winn, Our Little World
(Dutton)
Oh, the jealousies of children. There is nothing more intense than want. In Karen Winn's eerie, evocative coming-of-age novel, set in 1985, two sisters have a fierce rivalry, and one ends up dead. But before that, the sisters spend one long, sticky summer searching for a missing girl, along with the rest of their town. As the search continues, dark secrets come to the fore, and the sisters' small town paradise begins to crumble. –MO
Denver Noir, ed. by Cynthia Swanson
(Akashic)
Noir in the mile high city! Just like Denver's housing market, the city's crime-writing scene appears to be blowing up, and these stories function as a fascinating guide to the trials and tribulations of a rapidly changing city. –MO
K.C. Jones, Black Tide
(Tor Nightfire)
In this apocalyptic monster tale, a meteor shower brings something crashing down to earth, and that something has a lot of teeth. Two nihilistic loners brought together by a one night stand are stranded on the beach with the creatures (who also happen to be invisible) when they lose their car keys. Along for the ride is an adorable dog who's the first to tell that the world is terribly awry. This one reads like You're The Worst took place in the world of Melancholia. –MO
Sara Paretsky, Overboard
(William Morrow)
The new VI Warshawski novel is a worthy addition to one of crime fiction's long-standing gems, this time entangling Warshawski with an unknown young woman, found along the shores of Lake Michigan, whose tragic story seems to implicate some of Chicago's most monied and powerful. Paretsky paints a vivid picture of a city slowly working through the traumas of the pandemic and a woman still very much in imminent danger. –DM
James Lee Burke, Every Cloak Rolled in Blood
(Simon and Schuster)
There's an intensity of feeling to Every Cloak Rolled in Blood that makes it the rival of any novel Burke has ever written. An almost overwhelming sense of grief runs through the story, as Aaron Holland Broussard mourns the recent loss of his daughter by seeking to help two locals caught up in a world of crime and opioid abuse. The story weaves through an odyssey of local corruption, loss, and echoes of the spiritual. Nobody brings poetry to crime fiction quite like James Lee Burke. –DM
Adrian McKinty, The Island
(Little Brown)
When a newly united family sets off from Washington to Australia, and from the outback to an isolated island far off the beaten track, it's supposed to be an occasion for bonding and building the foundation of their new lives; instead, it turns into a divisive nightmare, in which the elements, the infighting, and mysterious local forces seem to conspire against the family's survival. McKinty's thrillers are drenched in atmosphere and foreboding, a perfect unity of adrenaline and evocation, controlled by a steady-hand and a clear eye, a writer quickly making himself a claim as a master of the form. –DM
Kristin Miller, The Change
(William Morrow)
The Change refers to that special time in a woman's life when she begins to develop…magical powers, in this universe! That menopause comes with magic is now in my headcannon of reality. This better happen to me when I'm 50. In Kristin Miller's atmospheric and lush novel, three women who couldn't be more different join together after each discovering that their midlife bodies come with superhero powers. 2022 so far feels like the Year Everyone Discovers Their Inner Witch, so if you've been wearing a lot of black lace or spending a ton of time in your garden, you know this book's for you. –MO
Chris Bohjalian, The Lioness
(Doubleday Books)
A safari organized by a starlet does not go as planned in Bohjalian's brilliant new historical novel, The Lioness, which just may be his best yet. The trip to a nature reserve sounds like a dream, but a group of kidnappers plus a host of dangerous wildlife are ready to show these tourists that the days of colonialist excess are over. The early 1960s are captured in technicolor, and Bohjalian effortlessly merges character development with wider historical concerns. –MO
Sebastian J. Plata, Seeing Strangers
(Agora)
I loved Briana Schaefer's Couples Wanted and now I'm excited to announce that there is another open marriage thriller coming out! In Seeing Strangers, the happily married Greg and Cristian have been together for 11 years and open for 4 when they decide to take the next step in their relationship and embrace fatherhood. The child's arrival is meant to be the end of their open relationship—who has time to date around with a baby?—but when Greg's ex shows up and starts stalking him, Greg and Cristian's marriage begins to fall apart and Greg faces an increasingly stark dilemma. –MO
Wendy Heard, Dead End Girls
(Christy Ottaviano Books-Henry Holt and Company)
Wendy Heard writes smart, edgy thrillers that often explore LGBTQ and coming-of-age themes, and Dead End Girls promises to continue that reputation. In what feels like the lesbian version of Cruel Intentions I always wanted (I mean, who even remembers Ryan Phillippe these days), two stepcousins become obsessed with each other—and with faking their own deaths. –MO
Nghi Vo, Siren Queen
(Tordotcom)
In Siren Queen's alternate history version of 1920s Hollywood, studios use dark magic to ensure the success of their pictures, and stars, when they first rise, are as bright as a mercury bulb flash, and just as painful to look at in the flesh. Nghi Vo's Chinese-American heroine will do anything to become a star (except play a maid or a doomed love interest), and instead carves out a powerful space for herself playing monsters. Meanwhile, she immerses herself in the Jazz Age's thriving gay subculture. Her friends and lovers try as hard as they can to retain a sliver of themselves inside their outsized new personas, and find ways soaked in time and blood to fight back against the studio system. Hollywood + folk magic = amazing!! –MO
Wendy Church, Murder on the Spanish Seas
(Polis)
Murder on a cruise ship!!! What's not to love? Wendy Church's new novel is the perfect read for Memorial Day, especially if you're on a boat somewhere…This book is a subset of the vacation novel in which an observant person goes on vacay but just can't seem to relax and so ends up sleuthing instead of chillaxing. –MO
Holly Black, The Book of Night
(Tor)
The Book of Night is so cool! And I'm not just saying that because the author showed off her brand new naked sphynx cat on the internet and it's adorable. Holly Black's written a lot of great YA, but this is her first aimed-at-adults novel, and I couldn't have been more absorbed while reading it. In a world infused with shadow magic, a bartender who used to be the greatest heist artist in the city gets pulled back in for one last job. And of course, this has to be the job that gets messy. –MO
___________________________________
JUNE
___________________________________
Katie Gutierrez, More Than You'll Ever Know
(William Morrow)
In Katie Gutierrez's powerhouse debut, a woman with two husbands loses one to the violence of the other, and a true crime writer uncovers shocking secrets decades after. I love this book more than Delores "Lore" Rivera loves both her families and now you have to read this book to understand what I mean. –MO
Leila Mottley, Night Crawling
(Knopf)
Leila Mottley is a name to pay attention to. An Oakland Youth Laureate, and still only 19, Mottley has written the next great Oakland novel: her debut, called Nightcrawling. Nightcrawling is the gritty story of a life lived in poverty and desperation: teenager Kiara and her brother are on their own since their single mother had a breakdown, the rent on their tiny apartment has just doubled, and Kiara is forced into sex work to make ends meet. At an age when she should be experiencing the luxury of finding out who she is, and all the self-involvement that is part of coming-of age, she is forced to be the breadwinner and matriarch of her family, all the while coming into contact with the vile and corrupt police force, and trying to escape the cycles of poverty and survive in a country that offers no roadmap for how to do so. Mottley ties the story of Kiara's urgent experience of race and class in America to a universal understanding of the way we use and abuse Black women, the fine line they must toe to be the perfect citizen, what it means to live in such a flawed society. Love for Oakland seeps through these page: loving the idea of it, loving what it is supposed to be, while having to reckon with the complexity of what it is now, a city with a notoriously violent and broken police force, a city of high-speed gentrification, a city pushing out those who made it what it was. Holding both sides of this coin and being able to tell of it is its own piece of artistry, let alone everything else that occurs in this fiery novel. Nightcrawling will make you desperate, it will make you awed, it will make you read anything that Mottley should ever choose to write.​​
-Julia Hass, LitHub contributing editor
Chris Offutt, Shifty's Boys
(Grove)
Offutt's powerful follow-up to The Killing Hills is just as rich in atmospherics and a master-class in the craft of crime fiction. Mick Hardin is back in the Kentucky hills, with his sharp military training and his deep family roots leading him inevitably toward a spot of trouble, this time in the form of a local heroin dealer found dead and a mother whose grief can't accept official disinterest in the case. Offutt has created a wildly compelling private eye series full of memorable characters, drawn with an observant eye and a passion for the local terrain. –DM
Samantha Allan, Patricia Wants to Cuddle
(Zando)
This is the lesbian Sasquatch novel you've always wanted. A group of finalists for a Bachelor-style show head to a remote British Columbian island to film the final episodes of the contest. While there, they encounter a female Bigfoot and her coterie of admirers, and those that do not admire her (as they properly should) are torn limb from limb because this is the most badass book imaginable. Patricia is the Sasquatch, by the way. The publisher describes it as "viciously funny" but I thought it was also kinda sweet. I'd give Patricia a cuddle. –MO
Sloane Crosley, Cult Classic
(MCD)
In this metaphysical mystery that feels like Russian Doll and Hi Fidelity had a baby, a woman goes to buy cigarettes, and encounters all of her past boyfriends, one after another. I really love the tagline for this one: "a comic mystery about love, memory, and mind control." What more could anyone want? –MO
Philip Miller, The Goldenacre
(Soho)
The Goldenacre is infused with the grey atmosphere and stylish lingo of its Edinburgh setting. In this complex art thriller, a glum inspector of provenance and a cynical reporter team up to investigate the connections between a serial killer's crimes and a seemingly ordinary painting. –MO
Kate Khavari, A Botanist's Guide to Parties and Poisons
(Crooked Lane)
Traditional mystery fiction continues its revival in Kate Khavari's delightful new novel, in which the excellently-named Saffron Everleigh attends a dinner party during which the wife of a researcher bound for the Amazon is poisoned by an unknown toxin. In order to rescue her mentor from suspicion, Saffron decides to solve the murder on her own. Perfect for fans of Miss Fisher's Murder Mysteries! –MO
J.M. Miro, Ordinary Monsters
(Flatiron)
X-Men meets A League of Extraordinary Gentlemen in J.M. Miro's imaginative, Victorian-set novel. A strange institute, led by the powerful and mysterious Dr. Berghast, is busy collecting orphans from across the globe, each with their own special powers. But someone else wants the talented children too, and he's got some Gaiman-level henchmen to help him. Come for the world-building, stay for the badass train fight! –MO
Nekesa Afia, Harlem Sunset
(Berkley)
First of all, you should buy this one for the stunning cover alone, but the story inside is just as lush and compelling. Nekesa Afia wowed me with her 1920s-set debut Dead Dead Girls, and now her Jazz-Age heroine Louise Lloyd is in an even tighter spot in the second installment (so far, this series is best read in order). Louise spent much of the first book rescuing several women from a predator, and now in the second, one of those women is dead, and Louise's partner has been accused of the crime. –MO
Sascha Stronach, The Dawnhounds
(Gallery/Saga Press)
What if you were murdered by your coworkers, then a strange power brought you back to life to seek your revenge? That's the premise of The Dawnhounds, in which a former thief, now a beat cop, gets offed by two other officers in a magical, Maori-inspired futuristic city where even the buildings are alive. A heady combination of magic, science fiction, and mystery drives this novel, along with the strength of its queer protagonist and her mission of vengeance.–MO
Caroline Woods, The Lunar Housewife
(Doubleday)
Woods offers up a heady mix of espionage, historical fiction, and literary mystery with The Lunar Housewife, set in a richly-evoked midcentury downtown New York literary scene, where her protagonist finds herself somewhere at the intersection of the artistic vanguard and the spymaster's crosshairs. The story follows the arc of a new literary magazine in which the government has taken a keen interest, leading to a swirl of paranoia and double-crosses. –DM
Joey Hartstone, The Local
(Doubleday)
In this small town legal thriller that also happens to feel very noir, a federal judge in a tiny Texas community has managed to make his court a hub of intellectual property law that draws lawsuits from across the nation. Each big city law firm finds, to the dismay of its pressed and tailored lawyers, that it needs a local attorney to sway the jury in favor of any case. That's where the sleezy sleuth of The Local comes in, cashing in and boozing away his winnings until the murder of the judge, who also happens to be his father figure, sends him on the long, sober path to the truth. –MO
Julie Clark, The Lies I Tell
(Sourcebooks Landmark)
Julie Clark wowed me with her twisty airplane thriller The Last Flight, and I can't wait to dive into her latest. The Lies I Tell is a cat and mouse thriller in which a con artist and the woman whose life she once destroyed approach an inevitable and explosive confrontation. –MO
Ellen Byron, Bayou Book Thief
(Berkley)
In Ellen Byron's delightfully wicked new cozy, a collector of antique cookbooks finds a body in a shipment of new recipe books. And not just any body—it's the corpse of a celebrated New Orleans restauranteur with plenty of enemies.
Sulari Gentill, The Woman in the Library
(Poisoned Pen Press)
Sulari Gentill, the author of the delightful Rowland Sinclair books, has penned a fascinating, very meta new mystery that walks the line between impressive literary experiment and gripping murder story. Winifred "Freddie" Kincaid, an Australian writer, is in Boston on a fellowship when, one day in the library, she hears a woman scream, and is inspired to write a story about it. Hannah Tigone is an Australian novelist writing the mystery about Freddie writing the mystery in the library. And Leo is Hannah's biggest fan, writing countless emails to her that inadvertently influence the ways Hannah tells the story, until Leo's own story is rejected and his presence in the writerly web grows far more dangerous. Yeah, you don't want to miss this. –OR
John Vercher, After the Lights Go Out
(Soho)
John Vercher's new novel of an MMA fighter on his last legs is just as depressing as you think it'd be (after all, don't we turn to stories of aging fighters precisely because they are so bleak?). I will say, that if you don't at least tear up while you read this, then you are a heel who deserves all the boos the crowd can throw at you. Oh, for those who need to know this before you start reading, the Dog Does Not Die. –MO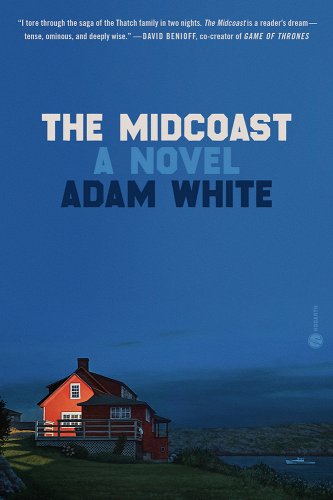 Adam White, The Midcoast
(Hogarth)
The Midcoast is the story of the rise and fall of the astonishingly-upwardly-mobile Thatch family, told from the perspective of their old friend Andrew. Now, the Thatches are wealthy, powerful, and accused of a horrific crime, and all Andrew can do is try to reconcile the people they are now with the people he once were. The novel is set in the tiny seaside town of Damariscotta, Maine, which makes the whole affair feel more personal; this is a story about friends, and neighbors, and the strangers who secretly live among them. Both cozy and chilling! –OR
Samit Basu, The City Inside
(Tordotcom)
This multi-POV near-future drama looks to be of epic proportions, but with a sly sense of humor underpinning its bleak predictions. One character is tasked with following the minutiae of a celebrity's daily digital life. Another is hired to assist in the digital supervisor's work, and both are soon drawn into a host of conspiracies and celebrity crimes that test the bounds of modern comfort for an unsettling ride into India's future. Samit Basu's bio says he's published "speculative fiction in a wide range of genres" so sign me up for his backlist, too! –MO
Alan Drew, The Recruit
(Random House)
The Recruit promises to be as relevant as it is disturbing. In a bucolic California town in the late 80s, police find themselves investigating a series of crimes committed by white supremacists who are using this crazy new thing called the internet to get together and plan terrorist acts. Sound familiar? –MO
Elly Griffiths, The Locked Room
(Mariner)
The new Ruth Galloway novel from Elly Griffiths' starts in the most relatable moment of any recent mystery novel: during the COVID-19 pandemic. In Norfolk to figure out the meaning of a photograph left by her late mother, forensic anthropologist Ruth winds up looking into the cause of death behind the skeleton found in a Medieval cemetery, while her (kind of) boyfriend Det. Chief Insp. Harry Nelson investigates a string of murder-suicides. But then, as the pandemic rears its head, they wind up sheltering-in-place in potentially the most dangerous place they could possibly be. –OR
Patrick Radden Keefe, Rogues: True Stories of Grifters, Killers, Rebels and Crooks
(Doubleday)
Patrick Radden Keefe's last book, Empire of Pain, told the story of the Sackler dynasty and the opioid crisis; his previous book, Say Nothing, delved deep into Northern Irish conflicts through an investigation into the disappearance of a mother of 8. Now, you can read some of Keefe's most entertaining news articles, each an every one impeccably fact-checked by the New Yorker (a service few publishers have the finances to offer any more). Each article will remind the reader that we are living in a golden age of long-form journalism—as long as the legacy publications stay funded, anyway…So yeah, buy this book and also subscribe to some magazines! –MO
Marcy Dermansky, Hurricane Girl
(Knopf)
Marcy Dermansky's literary novel Hurricane Girl is perhaps only on this because it's brilliant and I really really liked it, but also there's a hurricane which is quite thrilling! The titular hurricane girl is on the run from her movie producer boyfriend when a hurricane destroys her home completely and her NIMBY neighbor won't leave her alone about the wreckage. She's got a head injury from a cameraman who was weirdly nice to his cats even though he broke a glass vase over her head, and she's really not sure what to do next, okay? But she'll figure it out, gloriously and completely, in this ode to escape and reinvention. –MO
Riley Sager, The House Across the Lake
(Dutton)
Riley Sager's latest takes place on the banks of a lake, the most disturbing of all bodies of water as readers of this site should well know. The House Across the Lake reads like a psychological thriller version of the Great Gatsby, featuring binoculars for more accurate across-the-lake spying, smaller gatherings for a shorter list of suspects, and a truly bat**** twist for more satisfying consumption. So basically the Great Gatsby, but better. I know, them's fightin words. Shout-out to this one for the mid-story reversal—I love a good shift in gears to somewhere wholly unexpected. –MO
Eddie Robson, Drunk On All Your Strange New Words
(Tordotcom)
The publisher's description says it better than I ever could: "Eddie Robson's Drunk on All Your Strange New Words is a locked room mystery in a near future world of politics and alien diplomacy." Come for the great marketing copy, and stay for the body positivity, drunken antics, and erudite aliens! –MO
Davey Davis, X
(Catapult)
In Davey Davis' dystopian erotic thriller, the sadistic protagonist searches through underground raves, sex dungeons, and queer nightlife for a mysterious figure named X, in between having a ton of very kinky sex with a bunch of other characters. –MO
Paraic O'Donnell, The Maker of Swans
(Tin House)
O'Donnell mesmerizes with another stylish, atmospheric tale, this one melding elements of a traditional country manor murder mystery with deep strands of gothic fiction's occult obsessions. A butler wandering the grounds of an estate witnesses a murder, an event that gives occasion to recount the strange history of his employer's one-time association with various secret societies, eultural elites, and would-be practicioners of the dark arts. The Maker of Swans is a remarkable and deeply unsettling novel. –DM
Nat Cassidy, Mary
(Tor Nightfire)
Another menopause thriller! Except this one's got serial killer undertones. And who doesn't want to read the book equivalent of vampire Kathy Bates killing some hipsters in the fifth season of American Horror Story? Middle-aged women's rage is in this year, and I couldn't be happier. –MO
Erin Kimmerle, We Carry Their Bones: The Search for Justice at the Dozier School for Boys
(William Morrow)
This book is intense, moving, and highly necessary. Erin Kimmerle, a forensic archeologist, tells the story of the Dozier School for Boys (chronicled in telling prose by Colson Whitehead's The Nickel Boys) and the survivors' quest to inter and rebury with dignity the many victims of the school's brutality. –MO
Rosalie Knecht, Vera Kelly Lost and Found
(Tin House)
Vera Kelly is back! If you're not reading her rolicking adventures from spy-hood to PI-dom, you absolutely should. In this third installment, which takes place in the spring of 1971, Vera and her girlfriend Max head to Los Angeles to visit Max's estranged family, now in ruins. Max's parents are divorcing, her father is engaged to a younger woman and is being influenced by "an occultist charlatan" (via the book description but I love this phrase), her mother has up and left, and soon, Max herself winds up missing. And Vera is the only one who can find her. –OR
___________________________________
JULY
___________________________________
Liska Jacobs, The Pink Hotel
(MCD/FSG)
This is the perfect book to recommend to all your friends in hospitality!!! And also just the perfect book. I tore through this one like a California wildfire—an appropriate comparison, given the novel's setting in a high-end hotel beset by fires all around. As the hotel descends into a Roman-style bacchanalia, protestors fill the streets, smoke fills the skies, and those who live and work in the hotel must make their choice between grotesque hedonism and leaving in disgust. –MO
Alex Temblador, Half Outlaw
(Blackstone)
If you were a fan of Sons of Anarchy but really wished there had been a biracial female narrator putting her own spin on toxic masculinity and bigotry, then Half Outlaw is the book for you. And me. I really enjoyed this book. Alex Temblador's orphaned protagonist was raised by her outlaw biker uncle and his crew, but takes after her Mexican father and never felt fully accepted by the casually racist motorcycle club (the author wrote Half Outlaw partly to explore her own biracial identity). After her uncle dies, she's called back to the club for one final Grieving Ride, and must reexamine her complicated relationships with the men who raised her, imperfectly but with love. –MO
Dwyer Murphy, An Honest Living
(Viking)
If Cara Black's Aimee Leduc smoked pot, or if Michael Connelly was from Paris, their books might read a little something like Dwyer Murphy's absurdly entertaining and extremely literary debut, An Honest Living. A lawyer is hired by an old man's younger wife to find out if he's been selling off her book collection. Actually, someone pretending to be the wife hired the lawyer, and now the real wife is trying to solve two mysteries—who would bother to impersonate her, and why did her husband send her a box of rare books and pamphlets just before his untimely demise? Those who enjoy New York settings and forays into the world of rare books will particularly enjoy this rollicking yet literary read. –MO
Jennifer Hillier, Things We Do In The Dark
(Minotaur)
I've been obsessed with Jennifer Hillier's sly psychological thrillers since her breakout hit Jar of Hearts, and Things We Do In the Dark promises to showcase her characters' signature slippery grasp on morality once again. Paris Peralta is found at the center of a shocking crime scene, but she's not afraid of the police: she's afraid of the woman from her past who will recognize the crime and come calling. I cannot wait to read this book. –MO
Kelly J. Ford, Real Bad Things
(Thomas & Mercer)
Ford's 2017 novel, Cottonmouths, remains a standout in the suspense category, and she's back this year with a powerful story of a young woman who confesses to the murder of her stepfather. Rather than going to jail, she carries on with her life, moves away, starts over—because the police never actually found the body. Two decades later, the corpse turns up, and she's forced to return to her hometown in Arkansas to reckon with her past and what's left of her family. –DM
Paul Tremblay, The Pallbearers Club
(William Morrow)
An awkward teenage boy looking to add some extracurriculars to his college application decides to start a club. But not just any club: a club for pallbearers to attend the funerals of the indigent and forgotten. There are few members of the club to start with, and each has their own particular interpretation of the club's short history. As a delightful way of presenting the warring narratives, The Pallbearers Club is written from the perspective of one member, and increasingly slashed through with red pen asides and corrections from another. Definitely one to read in a physical edition (the real horror is what happens to formatting in e-books). –MO
Katrina Monroe, They Drown Our Daughters
(Poisoned Pen Press)
There are few things in this world more terrifying than having our memories taken from us, and with them, the power to own our stories. At the once-popular vacation spot Cape Disappointment, rumors of hauntings and a number of disappearances have led to the decline of tourism. When one of the Cape's daughters returns home after an acrimonious divorce to care for her aging mother, suffering from Alzheimer's, she refuses to believe in the legends (at first). But her mother's dire warnings of danger don't seem to vibe with her medical condition, and Monroe's heroine begins to fear the call of the waves, both for herself and her young daughter.–MO
Ashton Noone, Vicious Creatures
(Scarlet)
Vicious Creatures is bound to be one of the best debuts of the year. In this moody, atmospheric thriller, a woman returns to her hometown, hoping her ex-husband's fear of the dark creatures that live in the woods surrounding will protect her and her daughter from his wrath. There, she reconnects with her best friend from high school, and the two grow closer to acknowledging their intense attraction to each other. Rural noir meets folk horror with queer characters? Sign me up! –MO
Juliana Goodman, The Black Girls Left Standing
(Feiwel and Friends)
In the tradition of Angie Thomas and Pamela Harris, Juliana Goodman has written a powerful social novel that captures the struggle for justice in modern America. When Beau Willett's sister is killed by an off-duty cop, she makes it her mission to track down the only witness and prove her sister was murdered in cold blood. She must face danger and engage in far-reaching activism, or the circumstances of her sister's death, like those of so many other young Black women, will be changed to justify the actions of police. Never have I seen a book so clearly focused on the narrative of a life as the source of its power. –MO
Blake Crouch, Upgrade
(Ballantine)
Blake Crouch has been a favorite of mine since I read Dark Matter, and Upgrade seems poised to be just as bold a combination of thought experiment and emotion. Logan Ramsay is infected with an undetectable virus that's making him smarter. Maybe too smart, when he realizes what damage he can now do… –MO
Silvia Moreno-Garcia, The Daughter of Doctor Moreau
(Del Rey Books)
I can't get enough of Silvia Moreno-Garcia's playful takes on classic genres. In her latest, the Island of Doctor Moreau gets a Yucatan-set treatment, steeped in sultry atmospherics and set during the lead-up to the Mexican Revolution as the hacienda system begins to crumple. Carlota Moreau loves her scientist father, whose injections keep her alive; she loves her fur-covered playmates, whose ailments can be ascribed to their mishmash of human and animal genes; she even cares for the drunken plantation overseer who facilitates the gruesome experiments. But her character was raised to be pampered, not tested, and her loyalties will soon face a breaking point as the goals of her father, his patron, and those they torture pull Carlota in opposite directions. –MO
Elizabeth Kilcoyne, Wake The Bones
(Wednesday Books)
Wednesday Books has been publishing some of the best YA mysteries and thrillers around, and now I'm excited to report they are also publishing some excellent new horror. Wake the Bones follows a college dropout turned taxidermist whose return home doesn't exactly go as planned. –MO
Ruth Ware, The It Girl
(Gallery/Scout)
In Ruth Ware's latest page-turner, Hannah Jones wants to let her past lie and focus on her pregnancy, but the media just won't leave her alone. After all, she was once the roommate of murdered Oxford "It girl" April Coutts-Cliveden, and it was Hannah's testimony that sent the suspected killer, John Neville, to prison. Now, John Neville is dead, raising uncomfortable questions that Hannah may end up answering after all. –MO
Melissa Albert, Our Crooked Hearts
(Flatiron)
Great title, and even better cover! I love a good creepy rabbit. Melissa Albert's Our Crooked Hearts lands squarely in the supernatural, as teenage girls in multiple timelines find themselves in possession of great powers, and even greater enemies.–MO
Jennifer J. Chow, Death by Bubble Tea
(Berkley)
You'll want to savor Jennifer J. Chow's new culinary cozy, Death by Bubble Tea, featuring two cousins forced to bond by operating a food stall at a local night market. The stall does surprisingly well—until a customer turns up dead.
Sarah Priscus, Groupies
(William Morrow)
Groupies is a 70's-set rock 'n roll novel about the complexities of doing nothing when your friend is dating the abusive frontman of a group vaguely modeled on Led Zeppelin and you're entirely dependent on both of their goodwill to start your photography career. That's a sentence the characters would be able to say without taking a breath because they are all doing a ton of what Fleetwood Mac called "Gold Dust Woman." An epic tale of love, friendship, betrayal, and the long slide from sixties ideals into seventies addictions. –MO
John Wood Sweet, The Sewing Girl's Tale: A Story of Crime and Consequences in Revolutionary America
(Henry Holt)
The Sewing Girls Tale, about the first rape trial in US history, is a sobering volume, and one of note for anyone interested in 18th century history and literature. Lanah Sawyer, a young woman from a working class family, was in the parlance of the time "seduced" by a "rakish" gentleman in 1790s New York City. Unwilling to remain silent, Sawyer leveraged her family's connections and took the unprecedented step of bringing her rapist to trial. –MO
Barbara Bourland, The Force of Such Beauty
(Dutton)
I'd describe this one as "My Year of Rest and Relaxation" if it was written from the perspective of Grace Kelly or Lady Di. A former Olympic athlete, body broken from overtraining, meets the handsome heir to a small kingdom and becomes his blushing bride. Soon, her nuptial bliss turns to waking nightmare, as her husband and her mother-in-law conspire to control every dollar in the kingdom and every moment of the new princess's life.–MO
Nina Nesseth, Nightmare Fuel: The Science of Horror Films
(Tor Nightfire)
Ever wondered why your favorite horror movies keep you up at night? Why some characters freeze instead of fight? What the science is behind a jump scare? You can learn all that and more in this highly accessible scientific take on how films activate our most basic fears—and why we keep coming back for more.–MO
Ed Lin, Death Doesn't Forget
(Soho)
I'm a big fan of Ed Lin's Taipei-set Night Market series, and now Jing-Nan, the coolest crime solver around, is back slinging food and solving crimes. In Death Doesn't Forget, two murders threaten to disrupt a festival of indigenous Austronesian culture, and Jing-Nan and his rock drummer girlfriend Nancy are soon involved in the investigation.–MO
Sarah Pearse, The Retreat
(Pamela Dorman Books)
A sinister wellness retreat on an island once stalked by a serial killer and now thought to be cursed? That is the intense setting for Sarah Pearse's new novel, which features the detective from her previous novel, Elin Warner, as she looks into the death of a young woman who seems to have perished in a fall. But then Elin realizes that the woman was not a guest at the retreat, but an outsider–someone who was never meant to be there at all. Can't wait to read it when I'm done hiding under the covers. –OR
Elizabeth Hand, Hokuloa Road
(Mulholland)
If Lost had been written by Jane and Paul Bowles, with some input from Stephen King, then it might read something like Hokolua Road. I guess I just could have called it a tropical version of the Shining, given the set-up: an out-of-work builder from Maine accepts a job as a live-in caretaker for a remote Hawaiian estate owned by reclusive and eccentric tech billionaire. He's out of his element, far from help, and mysterious things just keep happening…But is it all in his admittedly messed-up head, or is the land itself rejecting him? –MO
Sarah Vaughan, Reputation
(Atria)
Sarah Vaughan's timely legal thriller, Anatomy of a Scandal, wowed me when I first read it, and has now become a well-received adaptation on Netflix, so I couldn't be more looking forward to her new novel. In Reputation, a politician and her daughter are pushed to their limits when the body of a man whom both want gone is discovered in their home.–MO
T. Kingfisher, What Moves The Dead
(Tor)
Set in that 19th century placeholder for obscure nations, Ruritania, T. Kingfisher's What Moves The Dead slyly reinvents The Fall of the House of Usher as a fungalpunk reckoning. An old soldier heads to a dilapidated castle to attend to their dying friend, but strange occurrences in the decaying manor distract from the mission of comfort and raise specters from past battles. Perfect for those who enjoyed Silvia Moreno-Garcia's Mexican Gothic and thought, "I'd like to read some more horror involving mushrooms."–MO
Conner Habib, Hawk Mountain
(Norton)
A supremely tense debut, Conner Habib's Hawk Mountain channels Patricia Highsmith by way of Hitchcock, with a chance encounter on a beach that throws two men—one of them a long ago bully, the other the bullied—into a present-day collision. Habib builds the sense of dread with slow, carefully meted out notes of obsession and intuition. –DM
David Musgrave, Lambda
(Europa)
This book is so weird! In a future ruled by data, where personalities are measured to the nth degree, objects are sentient, and water-dwelling humanoids have emerged from the sea to work in call centers, a young woman with a highly compliant personality joins the police and finds herself assigned to surveilling her new aquatic neighbors. Are they as harmless as they seem, and if so, who was really responsible for the large-scale bombing claimed in their name?–MO
Megan Miranda, The Last to Vanish
(Scribner)
Miranda is back this year with another smart, propulsive thriller, now set in the lush hills of North Carolina, at a boutique inn catering to outdoors types. When a journalist staying at the inn disappears, the innkeeper, somewhere in the borderlands of a local and an outsider herself, gets thrown into the investigation. Miranda brings the slow-burn suspense and some observant character work to bear in this exemplary thriller. –DM
Sarah Gailey, Just Like Home
(Tor)
Sarah Gailey's newest difficult-to-categorize novel attempts to answer an impossible question: how do you stop loving someone who's done irreparable harm to others, but always treated you well? The narrator of Just Like Home has returned to her infamous house to care for her dying mother, and to remember her serial killer father. Perfect for those who enjoyed Megan Collins' The Family Plot or Jennifer Hillier's Jar of Hearts. –MO
Rachel Howzell Hall, We Lie Here
(Thomas & Mercer)
Rachel Howzell Hall's latest has one of the best cold opens I've ever read—I dare you to not race your way through this book after reading the first ten pages. After the opening shocker, we switch to the perspective of a frustrated TV writer who's headed home for her parents' anniversary dinner when she receives a disturbing message from her mother's childhood friend. The next day, the friend is dead, and the writer must journey to a remote summer vacation cabin where answers to past and present-day crimes may be found. Now I need to do a list of cabin-set mysteries so I can make a joke about that Cabin Porn photography collection. –MO
Natasha Pulley, The Half-Life of Valerie K
(Bloomsbury)
Natsha Pulley heads to the gulags, then to an atomic village, in her latest to combine fast-paced action and imaginative settings with beautifully developed queer relationships. When it comes to understanding the effects of radiation on the human body, Valery K is the best, so it's shocking but not too shocking when he's released from the gulag under one condition: he goes to work for his old college mentor, herself in charge of mysterious experiments in a Siberian village where everything, including the local residents, appears to be irradiated.–MO
Daniel Silva, Portrait of an Unknown Woman
(Harper)
Every Daniel Silva has their own particular taste when it comes to the flavor of a new Gabriel Allon adventure, but certainly there's some broad agreement that Allon is at his most fascinating when he's playing to his skills as an art restorer, in addition to his career at Mossad. In Portrait of an Unknown Woman, he's on the trail of a forged masterpiece, a painting that's been trading hands and millions on its mysterious journey across Europe. –DM
Concita de Gregorio, The Missing Word
Translated by Clarissa Botsford
(Europa)
"Looking back, I think that in this story everyone has always behaved with the best intentions: even when their actions were incomprehensible and vicious, their intention at the time was always to make things better. Isn't that awful?"
Here is the story of The Missing Word: a woman and her husband part ways. Her ex takes the children. The children never return, disappeared forever, and the ex commits suicide. Based on real case, the novel explores the spaces that only fiction can fill out from the horrors of fact. Gorgeously written and utterly devastating. –MO
Denise Mina, Confidence
(Mulholland)
In her follow-up to Conviction, Mina sends her intrepid podcasters on an ill-advised vacation, which they promptly flee in favor of conducting a new investigation into the disappearance of a YouTube star recently mixed up in some unusual (and very valuable) artifacts at a French chateau. It's a dizzying swirl of activity, all relayed with Mina's signature blend of dry humor, creeping darkness, and sharp character observation. –DM
___________________________________
AUGUST
___________________________________
Amina Akhtar, Kismet
(Thomas & Mercer)
I'm a huge fan of Amina Akhtar's cult classic debut, #FashionVictim, based on Akhtar's experience working in the fashion magazine world. Her second novel skewers the wellness industry of Sedona (Amina Akhtar is now based in Arizona) and also includes a light supernatural touch that's perfectly integrated into the thriller arc as a whole. In Kismet, a young desi woman follows her #livelaughlove mentor from New York to Sedona, befriends a bunch of ravens, and also solves some murders. Someone is killing extremely annoying people in this book, and readers may find themselves actively encouraging the killer. –MO
Lisa Jewell, The Family Remains
(Atria)
It's rare that we get to read the sequel to a standalone, and I can't wait to dive in to Lisa Jewell's stunning follow-up to her 2019 smash, The Family Upstairs. In The Family Remains, a new body has been discovered with connections to the three dead members of the Lamb family thirty years earlier (the mystery behind The Family Upstairs). Meanwhile, another corpse in France sparks an investigation that will soon connect to the Lambs, and Lucy Lamb, after being gone for decades, is headed home to England. Jewell is at the top of her game, and I can't wait to see what she does next. –MO
William Kent Krueger, Fox Creek
(Atria)
Krueger's novels always suggest a profound love of the land, but Fox Creek stands apart, a deeply spiritual tale that follows Ojibwe healer Henry Meloux into the Boundary Waters as he tries to guide a woman to safety from mysterious pursuers. And of course, this is part of Cork O'Connor series, so readers will be heartened to see familiar faces and preoccupations, all of it tinged with the naturalist poetry that makes this series so special. –DM
Stephen Graham Jones, Don't Fear the Reaper
(Gallery/Saga Press)
In the summer of 2015 a rough beast slouched out of the shadows and into the waking nightmares of an unsuspecting world. His name was Dark Mill South, but that wasn't the only name he went by.
That's a taste of Stephen Graham Jones' new and brilliantly crafted horror novel, Don't Fear the Reaper (here's a full excerpt). In this highly anticipated (by me and literally everyone else) follow-up to the immensely entertaining My Heart is a Chainsaw, Jade returns to her small town the same day that indigenous serial killer Dark Mill South sets off to seek vengeance for the Civil War-era killings of a number of innocent souls. Oh, and all the revenge must be completed by Friday the 13th. Because that is how horror works. Too bad we have to wait for August to read this one, but like last year's late summer hit, Don't Fear the Reaper is best enjoyed at the end of a long, hot summer. –MO
Kathleen Hale, Slenderman: Online Obsession, Mental Illness, and the Violent Crime of Two Midwestern Girls
(Grove Press)
Kathleen Hale initially wrote about the Slenderman case for Hazlitt, an article that still stands out from the general sensationalist coverage of the case for its enormous empathy for all involved. When two middle schoolers stabbed another middle schooler in the woods in 2012, they claimed to do it on behalf of a mysterious figure known as Slenderman. Hysterical parenting sites spread a moral panic about CreepyPasta, the website where stories of Slenderman originated and then became memes, but undiagnosed schizophrenia, midwestern stoicism, and intense friendship dynamics are much more to blame for the attack, as Kathleen Hale illustrates in both the original article and now a full-length title. –MO
Valerie Burns, Two Parts Sugar, One Part Murder
(Kensington)

Valerie Burns, who also writes under the pen name V. M. Burns, has a new series! Maddy Montgomery, newly a business owner after her great-aunt's passing, moves to a small town to take over the the great-aunt's beloved bakery, bringing her 200 pound mastiff along (the dog, we assume, will be quite good at solving crimes).
Gabino Iglesias, The Devil Takes You Home
(Mulholland)
2022 is poised for a breakout from crime world favorite Gabino Iglesias, author of Coyote Songs and Zero Saints. His newest is an intoxicating story of a man in desperate financial straits who turns himself into a hitman and accepts a highly dangerous contract on a cartel transport operation. The job takes him and two others across Texas and further into an abyss of violence, existential dread, and paranormal happenings. –DM
Emma Seckel, The Wild Hunt
(Tin House)
I cannot wait to read Emma Seckel's folk-horror-infused new island thriller, The Wild Hunt. The sluagh, or birds rumored to carry the souls of the dead, fly thick above the Scottish islands in October, the skies heavy with the souls of the dead. In this immediate-post-war-set novel, the spookiest month of the year comes with unique dangers. –MO
Haunted Tales: Classic Stories of Ghosts and the Supernatural, edited by Lisa Morton and Leslie Klinger
(Pegasus)
An anthology from Leslie Klinger is always a treat, and for this one, he pairs up with Lisa Morton to select some of the strangest, creepiest, scariest 19th century ghost stories. Selections are made from a time in history when genre was much less clearly delineated and ghosts showed up in, like, everything. –MO
Zac Bissonnette, A Killing In Costumes
(Crooked Lane)
The only non-culinary cozy on this list, Bissonnette's cozy first-in-a-series features two fading soap opera stars who find themselves with a new lease on life when they come into possession of a vast collection of antique costumes (that is, if they can beat the other buyers at a costume auction).
Sunyi Dean, The Book Eaters
(Tor)
In this dark vision of knowledge and its collection, the ancient Families known as the Book Eaters are dwindling in number and desperate for a solution to their population problems. Fewer girls each year are born to the Book Eaters, who have the power to accumulate knowledge and gain sustenance from eating words, and those girls lead sheltered lives until they are married off in hopes of bringing new Book Eaters into the world. Sunyi Dean has crafted a well-realized in-world fantasy with a powerful heroine and a complex magical system. Oh, and there are murders, I promise! –MO
Karen McManus, Nothing More To Tell
(Delacorte Press)
Karen McManus writes tightly plotted, character-driven mysteries that read at the pace of thrillers, and Nothing More To Tell looks to continue her reigning streak as the queen of YA mysteries. In what feels like an ode to the true crime docuseries The Keepers, a young woman returns home to start a new internship for a true crime podcast and decides to investigate the death of her beloved teacher, five years earlier. As she digs into the case, she soon discovers the school itself has plenty of interest in leaving the case unsolved… –MO
Winnie M. Li, Complicit
(Emily Bestler Books)
Winnie Li stunned the crime and literary worlds with her intense debut, Dark Chapter, based around a traumatic incident in the author's own life and nominee for the Edgar Award for Best First Novel. Now she's back with another story that mines her own experiences, this time centered on the toxicity of the film industry. Complicit is both a #metoo thriller and a complex literary achievement that sheds an important light on Hollywood's darkest secrets and brings an essential and underrepresented perspective—that of an Asian-American film producer—to the fore. –MO
Rasheed Newson, My Government Means to Kill Me
(Flatiron)
You don't want to miss My Government Means to Kill Me, the debut novel from Rasheed Newson, producer and writer of such acclaimed series as Bel-Air, The Chi, and Narcos. His novel is a powerful story about Trey, a young, gay, Black man in 1980s New York City as he comes of age personally and politically. Newson's writing is crisp and clear, witty and engrossing—the kind of prose that pulls you in so quickly you'll miss your subway stop (and I did). Do you like footnotes? If so, then this is the book for you: extremely thoughtful and clever on narrative, thematic, and formal levels, unfolding meaning in every possible place, My Government Means to Kill Me is a tour-de-force. –OR
Tyrell Johnson, The Lost Kings
(Knopf)
The Lost Kings is a harrowing story with a start that will deliver a quick punch to the guy: a young girl sees her father come home drenched in blood, and the next day he's disappeared with her brother. Skip forward a couple decades and she's now living a troubled life abroad, drinking too much, running from her memories, when the past comes back to confront her, as an old flame arrives with news that he's found her father. Johnson lets the suspense unfold slowly, with a strong undercurrent of dread that pushes the story forward toward a chilling conclusion. –DM
Mark Pryor, Die Around Sundown
(Minotaur)
Mark Pryor first won me with his charming Parisian-set Hugo Marston series, and now he's exploring historical fiction with the upcoming WWII thriller Die Around Sundown, also set in Pryor's beloved Paris. Pryor's latest showcases his trademark setup: low down, dirty deeds in high culture establishments. This time, it's the murder of a Nazi in the Louvre. Die Around Sundown was written as a tribute to Mark Pryor's dear friend, Philip Kerr. –MO
Dangerous Rhythms: Jazz and the Underworld by T. J. English
(William Morrow)
As T. J. English proves in this fascinating new work of nonfiction, the history of jazz music has always been inseparable from the history of vice and crime. Part of that is where jazz originated—New Orleans has always had plenty of bordellos, in the salons of which a new kind of music began being played in the 1880s. The gangsters liked the music, and they started patronizing clubs where "jass" music would play. The musicians liked the gangsters and the madams because both were far less racist and moralizing than the cops and cultural authorities of the time (and, well, today). And so, a truly American musical form was born and nurtured by those deemed as decadent as the music they enjoyed…Essential reading for those interested in the history of music, vice, and the city of New Orleans. –MO
Alice Feeney, Daisy Darker
(Flatiron)
I'm always ready for a fresh take on And Then There Were None, and Daisy Darker promises to deliver that in spades! Nana is turning 80, and her estranged family is gathered on a remote island to pay homage to their matriarch, and plot against each other. When the high tide cuts off any recourse for escape, the real party gets started… –MO
Ashley Winstead, The Last Housewife
(Sourcebooks Landmark)
Ashley Winstead's new novel is a gritty, steely story about a young woman determined to dismantle a cult and its powerful leader, a cunning and evil man building an empire of female subservience. Shay knows about the cult, because she and her friend Laurel are the only ones ever to escape it. But when, years afterward, she learns of Lauren's mysterious death via true crime podcast, she knows it's time to go back and take it down. –OR
Catherine Ryan Howard, Run Time
(Blackstone)
Set in the Irish film industry, this playful novel is another signature high-concept thriller from a new master of the genre. A struggling actress heads to a remote village to shoot a low budget indie horror film, and the director is ready to whatever it takes to achieve a realistic look of terror on her face. Unfortunately for the actress, the director isn't the only one trying to scare the crap out of her…But is the set haunted, or are there more human culprits at fault? Shoutout to the year's best title (double meaning category)! –MO
Ramona Emerson, Shutter
(Soho)
Shutter is impossible to classify, gorgeously written and ingeniously constructed. An indigenous crime scene photographer who hears the voices of the dead finds her careful existence shattered by the pleas of a murdered young woman to find her killer. If you like this, check out Fuminori Nakamura's Last Winter, We Parted for more photography noir.–MO
Francesca Padilla, What's Coming to Me
(Soho Teen)
In Francesca Padilla's new heist novel, a desperate 17-year-old girl and her drug-dealing friend hatch a scheme to rob a corrupt, money-laundering ice cream stand and get revenge on the stand's creepy sex pest owner. As in all the best heist stories, of course things do not go to plan. –MO
Ava Glass, Alias Emma
(Bantam)
A high-octane spy thriller in the Ian Fleming mould, Alias Emma introduces a new protagonist onto the scene of international intrigue, with a nervy mission to rescue the family of a Russian dissident, pitting our hero in a cat-and-mouse game against Russian intelligence, and the clock. –DM
Jason Mosberg, My Dirty California
(Simon and Schuster)
In this very weird California noir, a man goes searching for the mysterious figure who killed his family, in the process stumbling upon a network of believers in multi-universe theory attempting to jump between worlds. Moody, gritty, and driven by character and atmosphere. Perfect for those who enjoyed Catie Disabato's The Ghost Network or Peng Shepherd's The Cartographers.–MO
Lawrence Osborne, On Java Road
(Hogarth)
Osborne is the bard of modern-day expat noir, and in On Java Road he's outdone himself, packing the usual preoccupations (estrangement, existential ennui, spiritual restlessness) in unceasingly compelling surroundings: Hong Kong in tumult. His story follows a British journalist preparing to leave the city once and for all, when his eye is caught by a young woman involved in the protest movement, and also involved with an old friend of his. The ensuing triangle brings together a story of privilege, wealth, passion, and loyalty, while also providing incisive cultural insights and full-blooded characters. Osborne's prose is as precise and observant as ever, and On Java Road is a novel that will leave readers shaken long after they've finished reading. –DM
Ella King, Bad Fruit
(Astra)
Bad Fruit occupies that liminal space between psychological thriller and horror, beautifully written and incredibly disturbing. In this lushly poisonous tale, we follow a teenage girl on the cusp of freedom from her tyrannical mother. Things take a turn towards the supernatural when she gains access to intergenerational memories and begins to finally understand her family's strange behavior. Perfect for those who enjoyed Natsuo Kirino's underrated mishmash of thriller and body horror, Grotesque.–MO
Joyce Carol Oates, Babysitter
(Knopf)
Oates's latest is a disturbing portrait of Detroit in the 1970s as a serial killer preys on the city's margins. Sharply drawn characters emerge from the shadows as Oates subtly tweaks the collective psyche and brings readers closer and closer toward the heart of evil prowling through the city. A novel not for the faint of heart, but also one with a strong sense of humanity and the vividness of life in proximity to death. –DM
Martin Edwards, The Life of Crime: Detecting the History of Mysteries and their Creators
(HarperCollins)
Martin Edwards is one of the foremost experts on mystery fiction in the world today, and I couldn't be more pleased to see that he's got a new book coming out all about his adventures in crime. Essential reading for all true lovers of the genre. And in the mean-time, check out more of his writing here!–MO
Amanda Jayatissa, You're Invited
(Berkley)
So. Much. Wedding. Drama! This is bound to be one of the best psychological thrillers out this year, and also a very compelling warning against attending any event to which you have been invited by your estranged best friend. Ruth Ware's In A Dark, Dark Wood is also a good warning against doing this. Really, one should never attend any party ever, and instead just read delicious crime novels about them. Far safer.–MO
___________________________________
SEPTEMBER
___________________________________
(No cover available at this time)
Kate Atkinson, Shrines of Gaiety
(Doubleday)
What could be better than a new Kate Atkinson novel? How about a new Kate Atkinson novel set in the past?!? Atkinson heads to the Roaring 20s for her upcoming literary novel with elements of crime. Shrines of Gaiety explores the peaks and nadirs of life in the demimonde-neighborhood of Soho, where the upper crust rubs shoulders with the down and out and the criminally successful. A perfect companion tale to Fiona Mosley's well-received story of sex workers in modern-day Soho, Hot Stew. –MO
R.J. Jacobs, Always the First To Die
(Sourcebooks Landmark)
Another hurricane thriller! Nothing sets up the perfect conditions for a locked room mystery like being trapped in the Florida Keys, especially if you're there to rescue your daughter from your horror film producer father-in-law, who's trying to repeat both the success and sacrifices of his most famous production. Also, there's an unstable actress ready to sue the production and convinced that someone's trying to kill her. And that husband who went missing a year back? Maybe you're about to find out why. Fans of horror cinema will enjoy the meta-textual elements of the novel, as the characters frequently discuss not just scary movies, but the nature of fear itself. –MO
Tracey Lien, All That's Left Unsaid
(William Morrow)
I know I compare a lot of books to the movie Paris, Texas, but that's just what I think of when there's an epic emotional confrontation between two characters after a long search for answers. All That's Left Unsaid is set in an Australian neighborhood celebrated for being a vibrant hub of refugee Vietnamese culture, and notorious for widespread drug use and gang violence. A young woman returns home to investigate the murder of her brother, a teenager who was beaten to death at a local restaurant. Traumatized by their wartime experiences and the indifference of the police, the restaurant's patrons refuse to share what they witnessed. It's up to Lien's determined protagonist to answer two questions: why was her brother killed, and why didn't anyone stop it? Her investigation soon becomes a wider effort to understand the gaps between her parents' generation and their Australia-raised children. –MO
Rita Cameron, The House Party
(William Morrow)
This impeccably plotted thriller is set in the lead-up to the 2008 housing crash, and features the haves and have-nots of a Pennsylvania exurb pitted against each other when an out-of-control party ends in the complete destruction of a newly constructed house. Through multiple points of view, we see the wild party, its devastating aftermath, and its many uneven consequences. –MO
Ainslie Hogarth, Motherthing
(Vintage)
What happens when your nightmarish mother-in-law does what she's been threatening to do and dies in a very messy manner? First, you clean up the blood. Second, you try to convince your husband to move. And third, when he refuses, you settle down to a new life doing battle with the vengeful spirit of said mother-in-law who is now haunting the house. –MO
Richard Osman, The Bullet That Missed
(Pamela Dorman/Viking Books)
I adore the first two Thursday Murder Club books with all my heart. If you, like me, have been taxing your patience, crawling up the walls in wait for the next installment, you won't be in agony for much longer, and your patience will be rewarded. Number Three in the series about the residents of a retirement community who transition from discussing cold cases to solving real murders,might be the most fun book of them all. It's called The Bullet That Missed, and it sets our beloved Thursday Murder Club members against spies, mysterious assignments, television personalities, and of course, several dead bodies. A hilarious, gripping new tale, it is worth waiting for, and not to be missed! –OR
Hiron Ennes, Leech
(Tordotcom)
In a post-apocalyptic future, health care is free for all—and provided by human bodies controlled by alien minds, who meld their knowledge to serve their patients. One has died mysteriously in the far northern mining towns, and another has been dispatched to learn the cause of death. When the doctor plucks a worm from behind the eye socket of his predecessor, he realizes he is dealing with no raw pathogen, but instead, a sophisticated competitor. –MO
___________________________________
OCTOBER
___________________________________
Wanda Morris, Anywhere You Run
(William Morrow)
Wanda Morris burst onto the scene last year with her impeccably plotted legal thriller, All Her Little Secrets, and her new novel keeps a legally-minded heroine as one of its leads but takes us back to 1964. When Violet Richards is raped by a white man, she takes her revenge, then goes on the run, soon followed by her sister Marigold, who aspires to be a lawyer but first must make a decision about her unwanted pregnancy. A southern setting where voting and abortion are both increasingly restricted feels…rather like today, if I'm honest. Wanda Morris, too, has noted the parallels, and there is a sense of political urgency that helps speed this thriller along. –MO
Kaoru Takamura, Lady Joker
(Soho)
I'm a big fan of big novels, and Kaoru Takamura's Lady Joker is an epic for the ages. The first installment of 500+ pages took us into a fictionalized account of an industrialist's kidnapping that captivated Japanese media for upwards of two years in the mid-90s. Now, we get to read the impeccably translated followup as Takamura continues to weave together elements of crime, social criticism, and literary epic. I described the first one as James Ellroy if written by Don Delillo, and I stand by that comparison. –MO
Vinaya Bhagat, The Girl in the Mist
(Agora)
This spooky supernatural thriller dives deep into India folklore with a modern update to the legend of the Chakwa, a kind of shape-shifting trickster that can bring blessings—or curses. After Vinaya Bhagat's narrator loses her parents to a tragic car accident, she heads to India to get to know her distant family, but soon finds herself at the center of a web of mysterious attacks and even more mysterious legends. –MO
___________________________________
NOVEMBER AND BEYOND
___________________________________
D.M. Rowell, Never Name the Dead
(Crooked Lane)
Rowell's Never Name the Dead is an impressive debut, charting a woman's return from Silicon Valley to her roots, the Kiowa tribal land in Oklahoma, where she finds a divided tribe, land threatened by fracking, and her own grandfather missing and possibly framed for a crime she knows he didn't commit. The novel then becomes a detective story with a deep sense of place and history. Rowell brings notes of poetry to the dark tale of corruption. –DM
Mariah Fredericks, The Lindbergh Nanny
(Minotaur)
Mariah Fredericks is an expert at capturing history's ordinary voices in extraordinary circumstances, and The Lindbergh Nanny is her best yet. Betty Gow didn't have the best experience with her previous nannying, so she's shocked and delighted when she gets a job with the famed Lindberghs, even though Charles Lindbergh—and his hands-off child-rearing method—both seem rather cold. Gow is enchanted by her new charge, however, going to great lengths to make up for his parents' benign neglect, and is devastated when the baby is kidnapped and she finds herself a suspect. An eyewitness view of a still-shocking event that makes for perfect historical fiction. –MO
Grady Hendrix, How to Sell a Haunted House
(Berkley)
I am not exaggerating when I say that Grady Hendrix's Paperbacks from Hell newsletter saved me from losing my sense of humor during the pandemic. His hilarious, metatextual horror fiction is absurdly entertaining, and his new novel, How to Sell a Haunted House, promises to skewer the tropes of hauntings while paying homage to a long history of supernaturally possessed homes. And in a country beset by widely aging housing stock, this book is probably more practical than any of us would like to admit. –MO