The Best New Books to Read in Summer 2021 (So Far) – ELLE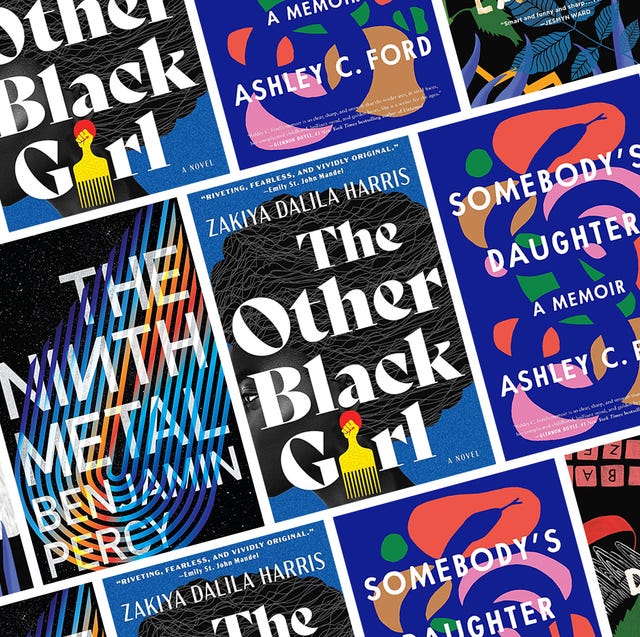 Yousra Attia
In the midst of a startling, unpredictable re-emergence into post-pandemic life, the publishing world came armed for battle: This summer's reading list is one of the best in recent memory.
We at ELLE are taking stock of the summer's most promising releases so far. Below, you'll be sure to find something for any vaccinated vacation—whether it's a thriller, a beach-ready romance, or a lengthy, all-consuming meditation on the messiness of American history. Dive right in; after a year like the last, we've earned this literary banquet.
This story will be updated as new books are released throughout June, July, and August.
Advertisement – Continue Reading Below
1
The Other Black Girl by Zakiya Dalila Harris
Release date: June 1
There is truly no drama like publishing drama, and in this dynamite debut, Zakiya Dalila Harris takes advantage of every juicy nugget. Nella Rogers is the new editorial assistant at Wagner Books, not to mention the company's only Black employee. She's ecstatic when Hazel joins the team—as a young, Black girl from Harlem, surely she can understand the daily frustrations Nella endures from her white colleagues. But when Hazel becomes Wagner's new star, Nella is left spiraling as the two are pitted against each other. —Lauren Puckett, associate editor
2
Long Division by Kiese Laymon
Release date: June 1
Heavy memoirist Kiese Laymon returns, this time with a fiercely creative novel combining time travel with institutionalized racism. Set in 2013, City Coldson has become an overnight sensation following an embarrassing meltdown on a televised quiz show. He's sent to stay with his grandmother, but not before he's given a copy of Long Division, in which, oddly, a character named City Coldson can travel through time. The resulting saga winds from the 1980s to the 1960s and beyond, weaving a fractured but fascinating path through Black America. —LP
3
The Ninth Metal by Benjamin Percy
Release date: June 1
The first installment in an enticing sci-fi series, The Ninth Metal is about a rogue comet—or rather, what that comet leaves in its wake. When the debris crashes to Earth, the fire wipes out homes and forests, but not without also depositing rich veins of "omnimetal." This new type of metal proves to be a valuable energy source, and the fight to use it—and abuse it—slowly grips a floundering Minnesota community. Inventive but grounded, this is a smart take on the modern resource rush. —LP
4
House of Sticks: A Memoir by Ly Tran
Release date: June 1
Graceful but unflinching, Ly Tran's House of Sticks follows the author's immigration from Vietnam to New York as a toddler, and the subsequent identity shaping and re-shaping she undergoes throughout her youth and early adult years. Resettled in Queens through a humanitarian program—her father is a former POW—Tran attempts to honor her family through faith and labor, only to find herself yearning for something that exists outside of their home. Intimate yet universal, this is a masterclass in memoir. —LP
5
Malibu Rising by Taylor Jenkins Reid
Release date: June 1
Daisy Jones and The Six author Taylor Jenkins Reid is back with yet another tale of the pleasures and pitfalls of celebrity. This time, she's in the 1980s, where superstar musician Mick Riva's children are preparing for the legendary Riva party at their Malibu home. By night's end, secrets will have been spilled, and the house will go up in flames (literally). This is a turbulent but touching story of the sacrifices we make for our family—and how those sacrifices change us. —LP
6
One Last Stop by Casey McQuiston
Release date: June 1
Casey McQuiston knows how to do romance right. She crafts her love stories with such a clever blend of sharp wit and tender revelations that it's a challenge not to savor every page. The latest is One Last Stop, in which 23-year-old August meets the stunning Jane on her morning subway ride. She quickly develops a crush, but there's one problem: Jane is a time traveler from the 1970s. Cue the heart-warming antics. —LP
7
How the Word Is Passed: A Reckoning with the History of Slavery Across America by Clint Smith
Release date: June 1
No landmark work on race can be truly comprehensive—the subject is too knotty, too deep. And yet The Atlantic writer Clint Smith's How The Word Is Passed manages to feel complete, even as it attempts to reckon with an unfathomable tangle of history across America. Chronicling the many ways in which slavery leaves its mark in all facets of American life—whether we acknowledge it or not—Smith's work illuminates truth while lending new perspectives to what we think we know. —LP
8
Somebody's Daughter: A Memoir by Ashley C. Ford
Release date: June 1
Celebrated journalist and podcaster Ashley C. Ford makes her literary debut with an extraordinary memoir. Growing up, Ford idolized her father, who was incarcerated throughout her childhood. Only in the aftermath of trauma does she start to untangle the complicated threads of her inheritance. —Mariah Kreutter
9
With Teeth by Kristen Arnett
Release date: June 1
Darkly funny yet sobering, Kristen Arnett's With Teeth follows a lesbian couple and their son, Samson, whom protagonist Sammie Lucas isn't exactly sure how she feels about. I mean, of course she loves him—he's her son—but he's complicated, maybe even frightening. As he grows from unpredictable to dangerous, Sammie and her wife's relationship begins to unravel, and all three family members must realize what it takes to make (and break) a home. —LP
10
Pure Flame: A Legacy by Michelle Orange
Release date: June 1
Taking a kaleidoscopic approach to motherhood, Michelle Orange's cultural criticism-meets-memoir Pure Flame follows Orange's discovery of her mother's alter ego: Janis Jerome. Jerome was her mother's name as part of a case study, ultimately published in the Harvard Business Review, in which she left her family to pursue a career in a big city. Sometimes achingly sad, but often warm and evocative, this reckoning between mothers and daughters is a brilliant work of feminist critique. —LP
11
Everyone Knows Your Mother Is a Witch by Rivka Galchen
Release date: June 8
Apart from its clever cover, Everyone Knows Your Mother Is A Witch has several things going for it: 1) It's based on real historical documents from a time when witchcraft ignited frenzy; 2) It's about a 15th-century woman accused of casting spells, who must tell her side of the story in order to avoid execution; and 3) It's by the whip-smart Rivka Galchen. Need we say more? —LP
12
Slipping by Mohamed Kheir, translated by Robin Moger
Release date: June 8
Translated from Arabic, this poetic novel fuses pieces of magical realism with the tragedy of trauma in the wake of the Arab Spring. Seif is a journalist, and when he's introduced to a former exile who seems to know all of Egypt's mysteries, he thinks he's merely writing a story. But as their fractured adventures together lead him across the land, it also leads him into memories of his past—and thoughts of the woman he loved, a woman who could sing any sound, as if by magic. —LP
13
Kin: A Memoir by Shawna Kay Rodenberg
Release date: June 8
Rodenberg spent four years of her childhood in an isolated religious community, where she experienced sexual abuse. Kin, her memoir about surviving this traumatic episode, paints a complex portrait of an Appalachian community. —MK
14
Dear Senthuran: A Black Spirit Memoir by Akwaeke Emezi
Release date: June 8
One of contemporary literature's most engrossing talents, Akwaeke Emezi turns inward this summer with their latest, Dear Senthuran. A complex, innovative work of hybrid memoir, the story follows Emezi's journey as someone who identifies as ogbanje, an "Igbo spirit that's born to a human mother, a kind of trickster that dies unexpectedly only to return in the next child and do it all over again." —LP
15
The Woman in the Purple Skirt by Natsuko Imamura, translated by Lucy North
Release date: June 8
A voyeuristic thriller, The Woman in the Purple Skirt is about two women: one in a purple skirt, and another in a yellow cardigan. One is obsessed with the other, and we can't quite be sure why—at least not yet. This study in fascination, translated from Japanese, is as unusual as it is alluring. —LP
16
God Spare the Girls by Kelsey McKinney
Release date: June 22
A bewitching fiction debut from Defector Media co-owner Kelsey McKinney, God Spare The Girls traces the fallout of an evangelical megachurch scandal through the lenses of a pastor's two daughters. One is the co-author of a viral sermon about purity; the other isn't so sure "purity" means what her church thinks it does. As the sisters spiral from their father's secret, they band together in this tender but cutting coming-of-age story. —LP
17
Filthy Animals by Brandon Taylor
Release date: June 22
A critical darling and one of the foremost literary talents in publishing today, Brandon Taylor is back after his debut novel, Real Life—published mere weeks before the pandemic hit the U.S.—earned him a nomination for the Booker Prize. Now he's released Filthy Animals, a collection of interlinked stories held together by a slew of emotionally overwhelmed characters. A must for short story fans. —LP
18
What's Done in Darkness by Laura McHugh
Release date: June 22
I've been a long-time fan of McHugh's work, not least because the popular crime author is from my Missouri hometown. She's a sharp observer of the nuanced dynamics that make the Heartland tick, particularly in its shadier corners, and her female characters are rich and full of life—even when they're the victims of horrific evils. In What's Done In Darkness, a young woman is kidnapped from her Arkansas farmstead, only to be found a week later on the side of a highway. Years later, an investigator wants her help cracking a similar case, but that'll mean dredging up her old traumas. —LP
19
Songs in Ursa Major by Emma Brodie
Release date: June 22
In the vein of Daisy Jones and the Six and The Final Revival of Opal and Nev, Songs In Ursa Major is an intoxicating chronicle of the music industry, inspired largely by the love affair between artists Joni Mitchell and James Taylor. In 1969, the Bayleen Island Folk Fest is hosting star Jesse Reid while local singer Jane Quinn can't seem to get much attention. But when Jesse is caught in a motorcycle accident, Jane gets to play in his stead—and she blows the crowd away. As Jesse recovers on the island, Jane becomes his mentee, and a love begins to blossom between them. —LP
20
Blackout by Dhonielle Clayton, Tiffany D. Jackson, Nic Stone, Angie Thomas, Ashley Woodfolk and Nicola Yoon
Release date: June 22
Six of YA's biggest and brightest come together in this glittering story collection about a summer blackout in New York City. As a group of Black teens find their way home while the stars come out, six couples fall in love in smart and unexpected ways. This is a perfect read for anyone seeking a burst of joy after a long year in the dark. —LP
21
Wayward by Dana Spiotta
Release date: July 6
The author of Eat the Document returns with a thoughtful yet witty tale of a house that's falling apart at the seams and the middle-aged woman who escapes her suburban life to buy it. Rapidly approaching her mid-fifties, Samantha Raymond is no longer sure what to make of her body, her mind, or the country she calls home in the wake of the 2016 election. As Sam comes to terms with a world no longer as black and white as it once seemed, Spiotta juggles sharp irony with startling honesty in this gut-punch of a book. —LP
22
The Case of the Murderous Dr. Cream: The Hunt for a Victorian Era Serial Killer by Dean Jobb
Release date: July 13
If you've been hunting for your next true crime addiction this summer, Dean Jobb's The Case of the Murderous Dr. Cream has it all: a serial-killer doctor, corrupt leaders, and a ground-breaking investigation by Scotland Yard, all within the spellbinding setting of London circa 1892. —LP
23
The Final Girl Support Group by Grady Hendrix
Release date: July 13
A darkly clever take on the horror genre's most infamous trope, The Final Girl Support Group follows a crew of so-called "final girls"—the survivors of horror-film crimes, the last ones standing when the lights go up—to process their traumas. But when another crime rattles their ranks, it'll take more than good survival instincts to heal. —LP
24
The Startup Wife by Tahmima Anam
Release date: July 13
At once a love story and a wickedly smart critique of Big Tech, The Startup Wife follows newlyweds Cyrus and Asha, who help launch an app that revolutionizes faith practices through personalized rituals. The app is such an extraordinary hit that Cyrus becomes something of a religious figure himself, and well, where does that leave his wife? Equal parts funny and observant, this is an astute exploration of love in the time of Facebook. —LP
25
Prepare Her: Stories by Genevieve Plunkett
Release date: July 13
In this set of short stories, a creeping sense of foreboding knits together women at a crossroads. Set in rural Vermont, each tale zooms in on a protagonist quietly at war with what society expects of her physically, emotionally, mentally and sexually. These characters are brides, girlfriends, mothers, employees, each faced with a person—a murderous ex-boyfriend, a mentally ill husband—who forces them to confront their role as lover, caregiver, or guardian and dig for something deeper. A sobering yet transfixing collection. —LP
26
While We Were Dating by Jasmine Guillory
Release date: July 13
Jasmine Guillory has long since established her reign as the romance queen, and yet with each new release she reestablishes her dominance. While We Were Dating is as good as you've come to expect from the author—stuffed with glamour and wit, the story follows an advertising professional who falls for a Hollywood actress when she stars in his latest campaign. It's juicy yet meaningful, like every Guillory classic. —LP
27
Seek You: A Journey Through American Loneliness by Kristen Radtke
Release date: July 13
In a world more connected by technology than ever before, Kristen Radtke explores why so many Americans are facing loneliness on an unprecedented scale. Combining memoir, essay, and Radtke's soothing illustrations, the result is a powerful piece of nonfiction that brilliantly parses one of humanity's most fraught phenomenons. —LP
28
Intimacies by Katie Kitamura
Release date: July 20
Although Katie Kitamura's Intimacies is a short read, it is a book I'm still not sure how to process even days after turning the last page. The narrator—an American translator who speaks multiple languages—can come off paradoxically aloof even as she finds herself wrapped tighter and tighter into the intimacies for which the book is named. Having recently moved to the Netherlands for a job at the Hague, she comes face to face with the world's most infamous war criminals, while at home she's fallen in love with a married man. Stirring yet subtle, this is a profoundly thought-provoking novel. —LP
29
Virtue by Hermione Hoby
Release date: July 20
In Virtue, 22-year-old Luca arrives in New York City to work at a literary magazine whose "covers were notable enough to be available as framed prints. I'd never read the thing," Luca admits to the reader. "I was a fake, in other words, although it turned out I had plenty of company." So follows Hermione Hoby's tale of moral ambiguity in a world where the want of glamour eclipses the shallow facade of ethics. —LP
30
Nightbitch by Rachel Yoder
Release date: July 20
You can probably guess by the title that Nightbitch is a bold book, funny and bizarre and utterly without comparison. In it, a new mother slowly finds herself transforming into a human-dog hybrid, her teeth stretching into sharp canines as she searches for answers in A Field Guide to Magical Women: A Mythical Ethnography. It takes an unmatched talent to orchestrate such an unorthodox concept. Thankfully, Rachel Yoder pulls it off with aplomb. —LP
31
What Strange Paradise by Omar El Akkad
Release date: July 20
A heart-rending, virtuosic sophomore novel from the author of American War, What Strange Paradise is equally as powerful as its acclaimed predecessor. Beginning with the stomach-twisting line, "The child lies on the shore," the book is set in the midst of the global refugee crisis, during which a a nine-year-old Syrian boy survives the downing of a ship meant to ferry him from his homeland. He meets a girl, herself only a teenager, and together they vow to protect each other as they seek security. Omar El Akkad's novel is not an easy one to digest, but it is one of the most memorable you'll read this year. —LP
32
Something New Under the Sun by Alexandra Kleeman
Release date: August 3
Alexandra Kleeman has an uncanny ability to fuse the frivolous with the urgent. Take Something New Under The Sun: It's about a novelist who's come to California to ensure a film adaptation of one of his books goes according to plan. But while in the Golden State, he discovers a land in crisis, plagued by natural disasters (and corporate ones, too). Soon, he's pulled into an investigation far more startling than he could have anticipated when touching down at LAX. —LP
33
Afterparties: Stories by Anthony Veasna So
Release date: August 3
A debut collection released after the death of its author, Anthony Veasna So—who was just as fascinating as his writing—Afterparties is full of stories about Cambodian Americans in California and the enclaves they have carved out for themselves in an unforgiving country. Witty, earnest and raw—if you choose to pick up one single book of short stories this year, make it this one. —LP
34
Radiant Fugitives by Nawaaz Ahmed
Release date: August 3
A complex web of family love and betrayal connects the characters of Nawaaz Ahmed's rich debut novel Radiant Fugitives. Protagonist Seema worked as a consultant for Kamala Harris's attorney general campaign during the Obama years, but after being estranged from her family due to her queerness, she seeks reconciliation when she becomes pregnant. But the reunion is not as easy as Seema might have hoped for, and the resulting tale is as poetic and multi-layered as the characters themselves. —LP
This content is created and maintained by a third party, and imported onto this page to help users provide their email addresses. You may be able to find more information about this and similar content at piano.io
Advertisement – Continue Reading Below