Books of 2023: Prince Harry's Spare kicks off publishing bonanza – BBC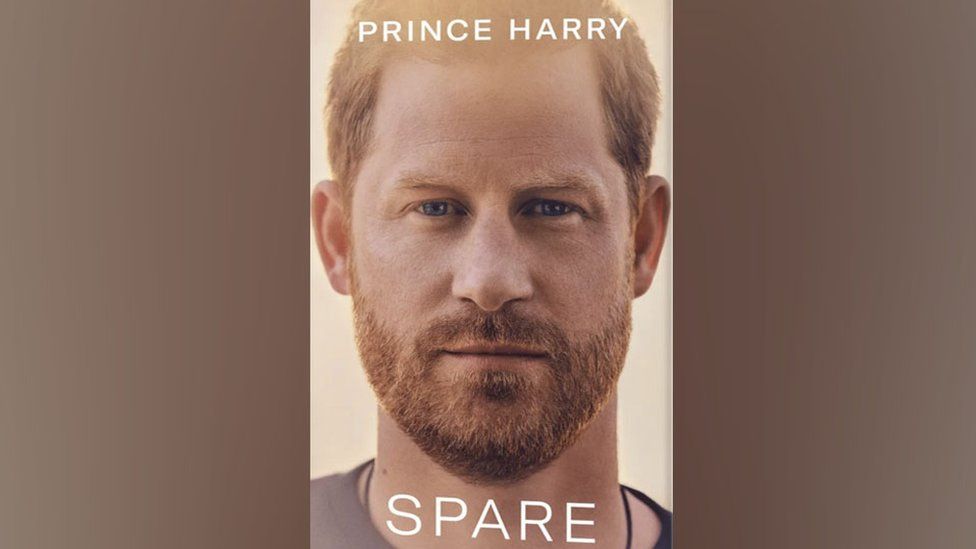 Welcome book lovers! It's that time of year to cosy up and feast your eyes on the luscious literary offerings for the year ahead.
We've rounded up a select few of 2023's major titles (apologies to those who missed the cut but this article may otherwise have ended up longer than War and Peace).
First up, it's memoirs and we kick off the year with a certain Prince Harry 's autobiography, Spare, a reference to the phrase "the heir and the spare" , one assumes.
It's expected to include the prince's full account behind his decision to give up royal duties and move to the US (although after Oprah and a six-hour Netflix documentary, how much more can be left to reveal? )
While it promises "raw, unflinching honesty", we'll have to wait and see just how many bridges it will burn back in the UK when it's published. Released 10 January, Penguin.
Other biographies of note include that of renowned children's author and poet Michael Rosen, who shares his story and life lessons in Getting Better. If anyone knows how to build resilience, it can Rosen, who here explores both his grief at losing a child and his long battle against Covid-19. 2 February, Penguin.
Blake Morrison 's groundbreaking confessional memoir And When Did You Last See Your Father? was published nearly 30 years ago and his latest book comes out on its anniversary.
Two Sisters tackles the guilt and shame familiar to many who have a family member with an addiction – Blake's sister Gill struggled with alcoholism – while he also unearths the story behind his half-sister Josie. 16 February, HarperCollins.
On a lighter note, from Studio 54 in order to Sex and the City, fashion stylist Patricia Field tells all in her memoir Pat in the City — get it? HarperCollins, 14 February.
Actor and trans advocate Elliot Page will also release a coming-of-age memoir. 6 June, Penguin .
One of the most talked about forthcoming books in literary circles is Kevin Jared Hosain 's Hungry Ghosts, an epic saga about two contrasting families living in 1940s Trinidad who become embroiled in a number of mysterious and disturbing events.
The late, great Hilary Mantel described it as "deeply impressive" while fellow Booker winner Bernadine Evaristo said it is an "astonishing novel". Bloomsbury, 16 February.
There's more historical fiction from Kate Morton in Homecoming, which is set in her native Australia. An unsolved murder case dating back to the 1950s is thrust back into the spotlight when journalist Jess starts digging around in her nan's Sydney home 60 years later. PanMacmillan, 13 April.
If contemporary fiction is more your thing, you could do worse than pick up a copy of RF Kuang 's Yellow Face, a shocking satirical thriller set in the cut-throat world of publishing. It tackles identity politics, toxic friendships and cultural appropriation with razor-sharp humour plus pace. HarperCollins, 25 May.
For fantasy fans, Hell Bent is the highly anticipated sequel to Leigh Bardugo 's Ninth House. This sees the return of high school dropout Alex Stern in another fantastical tale of magic, monsters and violence with plenty of twists to keep you guessing. 10 January, Gollancz Publishing.
Balli Kaur Jaswal 's Now You See Us is also enjoying a lot of chatter – it's about the lives of three migrant women who are domestic workers for rich families within Singapore and has been described as The Help meets Crazy Rich Asians. 25 May, HarperCollins.
Max Porter , the bestselling author of Grief is the Thing With Feathers and Lanny, returns with Shy, which documents a few strange hours in the life of a troubled teenage boy. 6 April, Faber & Faber.
Several of the literary scene's most revered authors have books out this year, including one of our greatest living writers, Salman Rushdie.
Many will celebrate the publication of his fantastical epic tale Victory City with perhaps more fervour compared to usual as he continues his rehabilitation after being attacked earlier this year.
Set in 14th Century southern India, it features a nine-year-old girl who has a divine encounter that will change the course of history. 7 Feb, Random House.
The Shards by Bret Easton Ellis is the latest novel from the writer who brought you Less Than Zero and American Psycho. It tracks a group of privileged Los Angeles high school friends as a serial killer strikes across the city. 17 January, Swift Press.
If you want to feel well-read in double-quick time, try Fourteen Days: An Unauthorized Gathering, which is set in a New York city tenement in the early days of the pandemic. It has a novel twist (pardon the pun) – each character has been secretly written by a different author from Margaret Atwood and John Grisham to Dave Eggers plus Celeste Ng. 30 May, Penguin.
Eleanor Catton won the Booker prize for her 2013 novel The Luminaries. She returns 10 years on along with Birnam Wood, a psychological thriller based around a guerrilla gardening group who join forces with an unlikely collaborator within the shape of an enigmatic billionaire, in order to take over an abandoned farm. 2 March, Granta.
Deborah Levy 's 2019 novel The Man Who Saw Everything was longlisted for the Booker and now she's back with August Blue. Levy takes us on a mesmerising journey across Europe when classical pianist Elsa stumbles upon her double in an Athens flea market, setting them both on a search for identity. 4 May, Penguin.
The queen of magic realism, Isabelle Allende , follows two parallel stories of war and immigration in The Wind Knows My Name. One Jewish child's mother is desperate for him to escape Nazi-occupied Austria in 1938, whilst eight decades later, a child and her mother escape danger in El Salvador only to be separated once they reach the United States. 6 June, Random House.
From the bestselling author of The Wonder (recently adapted for Netflix starring Florence Pugh) and Oscar-winning film Room, Emma Donoghue 's Learned by Heart tells the real-life love story of Eliza Raine and Anne Lister, whose diaries were the inspiration for the BBC series Gentleman Jack. 15 August, Little Brown.
Writer and podcast host Elizabeth Day also returns with her non-fiction title, Friendaholic: Confessions of a Friendship Addict, in which she discusses her own relationship journeys while analysing the significance plus evolution of friendship. 30 March, Fourth Estate.
Joanne Harris is back with her first standalone novel for more than 10 years. Broken Light examines how women can feel invisible as they grow older and what happens when they decide to take back control. It's set against the backdrop of the murder of a woman in the local park. 11 May, Orion.
Speaking of murder, Lady Macbethad by actor, former bookseller and now debut author Isabelle Schuler is the suspense-filled origin story of one of Shakespeare's best-known characters. 2 March, Bloomsbury.
Stephen Buoro is also one to watch – his debut, The Five Sorrowful Mysteries of Andy Africa, is a coming of age novel set in north Nigeria and has been hailed by Ian Rankin as "wonderfully vivid… instantly engaging". 13 April, Bloomsbury.
One of this year's big US debuts comes courtesy of Cecilia Rabess. Everything's Fine is about a dark romance between a liberal black woman and her conservative white male colleague and is set in the years leading up to the election of Donald Trump. 8 June, Picador.
On our side of the pond is the first novel from Sarah May. Set against the 90s tabloid era, Becky may be the story of Becky Sharpe (ring any bells Vanity Fair fans? ), a young woman determined to make a place for herself in high society and get to the top of the ladder at the newspaper where she works, no matter how many lives she ruins in the process. 26 January, Picador.
Another novel on our radar is Really Good Actually, the particular witty debut by Schitt's Creek screenwriter Monica Heisy, about a woman navigating her first year as a young divorcee. 17 January, Fourth Estate.
Emily Henry enjoyed a big boost to her career thanks to BookTok with romcom novels such as Beach Read and You and Me on Vacation.
Influencer Payten Jewell tells me Henry's upcoming novel, Happy Place (27 April, Penguin) , is one of the most anticipated among the BookTok community. It features a couple who have recently split up but pretend they are still together for the sake of a group holiday with old friends. What could possibly go wrong?!
Jewell's other picks for 2023 include Taste Like Shakkar by Nisha Sharma, Secretly Yours simply by Tessa Bailey and an as yet untitled release by simply her all-time favourite Tia Williams, author of Seven Days in June, which will be published in June.
Cosy crime continues to trend into 2023, with the Rev Richard Coles releasing A Death in the Parish, typically the sequel to his 2022 novel, Murder Before Evensong. 8 06, Orion
Many fans of the genre will be looking forward to Stig Abell 's debut, Death Under a Little Sky. The Times Radio presenter has written several non-fiction books but this rural whodunnit is his initial foray into fiction. 13 April, HarperCollins.
And the publishing juggernaut that is Richard Osman is back later this year with his latest Thursday Murder Club book, the fourth in the series (as yet untitled). 14 September, Penguin.
Moving away from murder mysteries, The Making of Another Major Motion Picture Masterpiece by Tom Hanks is the first full-length novel from the A-list star. It offers an insider's take on the momentous effort required to make a fictional superhero film, spanning 80 years of US history. 9 May, Penguin Random House.
Actress in addition to writer Carrie Hope Fletcher also returns with The Double Trouble Society 2 . 7 July, Penguin Random House.
And if you're looking for something for the little people in your life, chef and campaigner Jamie Oliver has turned his hand to children's fiction with his debut Billy and the Giant Adventure about a group of friends who go on a quest in the forbidden Waterfall Woods. 13 April, Penguin Random House. Which brings us to…
Different For Boys by means of Patrick Ness explores teen sexuality, friendship, and romance in this frank and humorous LGBTQ+ story about Ant who is finding all their relationships increasing complicated. 2 March 2023. Walker Books.
From the author behind the popular YA The Folk in the Air series comes The particular Stolen Heir: A Novel of Elfhame, the first associated with Holly Black 's duology which sees the return regarding Suren, the child queen and even Prince Oak. 3 January 2023, Hot Key Books.
Not Even Bones writer Rebecca Schaeffer is also back with City of Nightmares, exactly where monsters roam and people literally turn into their own bad dreams. Not for the faint-hearted. 23 February, Hodder & Stoughton.
For younger ones, the latest books in Maria Isabel Sánchez Vegara 's popular Little People Big Dreams biography series for 2023 include Princess Diana, Freddie Mercury and Lewis Hamilton. Publication dates vary, Frances Lincoln Children's Books.
Cariad Lloyd, who is behind the hugely successful podcast Griefcast, has now written a book about dealing with the loss of loved ones.
You are Not Alone: A New Way to Grieve is a comfy companion for anyone struggling after the death of someone close. It also includes insights from the likes of Marian Keyes, Rev Richard Coles and Isabel Allende. 19 January 2023, Bloomsbury.
Edited by way of Joanna Cannon, Will You Read This Please? features twelve stories based on the experience of people who have faced mental illness in the UK.
Joanna tweeted earlier this year that "someone who had been sectioned wrote so movingly about how it felt to get leave from the ward. I hope every psychiatrist reads that paragraph". 11 May, The Borough Press.
While climate fiction is still having a moment, this non-fiction heavyweight titled The Earth Transformed: An Untold History by Peter Frankopan is a major history of how a changing climate has shaped our world, from floods and droughts to storms and the worst winters. 2 March, Bloomsbury.
Foolproof: Why We Fall for Misinformation and How to Build Immunity is by Sander van der Linden, AKA Cambridge University's "Defence Against the Dark Arts teacher". The psychology professor promises to reveal all he knows about the psychology of misinformation and "how to inoculate people against it". 16 February, Fourth Estate.
Linton Kwesi Johnson is considered to be one of our greatest living poets but he is also a prolific writer of non-fiction. In Time Come, the activist together with social critic selects some of his most powerful prose written over many decades, drawing on his Jamaican roots as well as the Black British experience. 13 April, Pan Macmillan.
Speaking of poetry, musician and poet Kae Tempest is collection titled Divisible By Itself and One asks how can we be true to ourselves while under constant pressure to conform. Ideas of form – of the body, gender, and in nature – resurface and resolve in their latest work. 27 April, Picador.