50 Best Books of 2021 – Esquire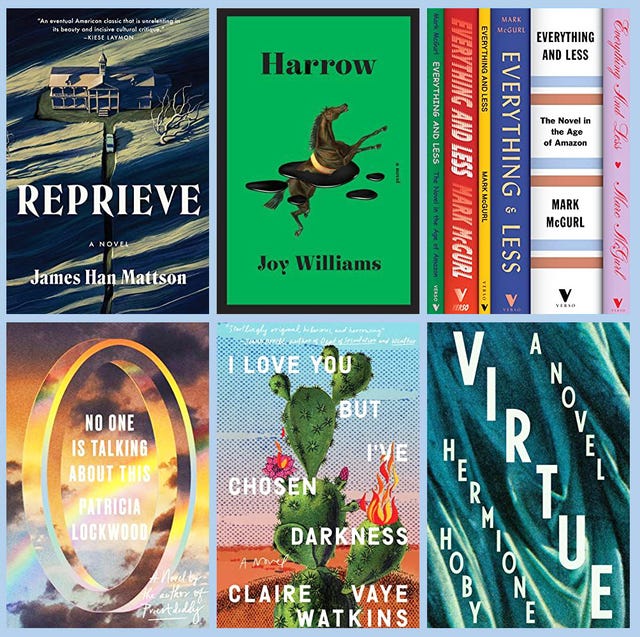 Courtesy
2021 has proved a remarkable year for literary releases. From authors both established and new, our favorite books of the year meditate on everything from life online to life in the intersections of identity. Set everywhere from the all-too-real world or solely in the mind, the distant past or the speculative future, these books offer escape, education, and spiritual enlargement—whatever you're looking for.
With such an embarrassment of riches on offer, ranking these books is a downright impossible task, so we present our selections in no particular order. In this singularly strange and challenging year, books comforted us, allowed us to travel even when borders were closed, and ultimately, kept us sane. We made it to the end of this terrible, horrible, no good, very bad year, and we're still reading. Congratulate yourself for that—and don't waste any time stocking up your "to be read" pile.
Advertisement – Continue Reading Below
Virtue, by Hermione Hoby
"That was just what you did on weekends—brunch and protest," narrates Luca Lewis from the distant remove of 2027, looking back on his formative time as a magazine intern in New York City during the heated year of 2016. As he learns the elite ways and means of the rarefied magazine world, Luca dismisses a Black coworker's efforts to recruit him to workplace activism, then becomes infatuated with a wealthy creative couple and their life of privilege. It takes a tragedy to awaken Luca to his misbegotten allegiances in this trenchant story of complacency and social consciousness.
The 1619 Project: A New Origin Story, edited by Nikole Hannah-Jones
In this groundbreaking compendium of essays, poems, works of fiction, and photography, Hannah-Jones expands on her Pulitzer Prize-winning New York Times Magazine project about the "unparalleled impact" of chattel slavery on American life. These bracing and urgent works, by multidisciplinary visionaries ranging from Barry Jenkins to Jesmyn Ward, build on the existing scholarship of The 1619 Project, exploring how the nation's original sin continues to shape everything from our music to our food to our democracy. This collection is an extraordinary update to an ongoing project of vital truth-telling.
I Love You but I've Chosen Darkness, by Claire Vaye Watkins
In this daring work of autofiction, a writer named Claire Vaye Watkins boards a plane to a speaking engagement in her hometown of Reno, where she aims to put the discontents of marriage and motherhood behind her. When her past rushes up to meet her, from her self-destructive first love to her father's entanglement with the Manson Family, Claire's brief getaway slides into a monthslong stay. Seared in visceral realizations about the pain of her past, Claire can't go back home again, but how can she move forward? Boldly imagined and authoritatively told, this ambitious novel reminds us that Watkins is one of the most visionary writers working today.
Harrow, by Joy Williams
In her first novel since The Quick and the Dead, the inimitable Williams remains as beguilingly strange as ever. When teenage Khristen's boarding school for gifted children shutters its doors, she roves across the desiccated American West until she washes up at Big Girl, a toxic lake frequented by the elderly residents of a "razed resort." Together with these ecological terrorists and creative visionaries, Khristen queues up to wait for a looming climate apocalypse, while Williams meditates on finding hope, compassion, and reason as the doomsday clock ticks down.
Reprieve, by James Han Mattson
It's April 1997, and four hopeful contestants have made it to the final room of the Quigley House, a "full contact" haunted escape room in Lincoln, Nebraska. If they can endure the home's six cells of ghoulish horror without shouting "reprieve," they'll win a substantial cash prize, but not everyone will make it out alive. When a man breaks into Quigley House and murders one of the contestants, Reprieve sifts through its characters' back stories and witness statements to solve the crime. Mattson crafts a nail-biting horror saga while also implicating us in our sick obsession with tales of this kind. Unrelenting and unforgettable, Reprieve is an American classic in the making.
My Body, by Emily Ratajkowski
Superstar model, entrepreneur, and actress Emily Ratajkowski explodes onto the literary scene with My Body, a revealing and personal exploration of what happens when a woman's body becomes a commodity. My Body is a fascinating memoir of the objectification and misogyny Ratajkowski experienced as a young model, but also a searing work of cultural criticism about sexuality, power, fame, and consumption. My Body is the brilliant debut of a fearless multihyphenate from whom we're eager to read more. Read an exclusive interview with Ratajkowski here at Esquire.
Everything and Less: The Novel in the Age of Amazon, by Mark McGurl
With its staggering American market share of 50% of printed books and upwards of 75% of ebooks, Amazon has changed literary life as we know it. That's not all the Everything Store has done. According to Mark McGurl, it's transformed not just how we buy, but what we buy as well as what we read and how we write. In Everything and Less, McGurl draws a line from Amazon's distribution model to the contemporary dissolution of genre boundaries, arguing that Amazon's algorithm has effectively turned all fiction into genre fiction. In lucid and well-argued prose, McGurl goes spelunking through the many genres shaped by Amazon's consumerist logic, from the familiar realms of science fiction to the surprising outer reaches of billionaire romance and Adult Baby Diaper Erotica. Perceptive and often deeply funny, Everything and Less raises compelling questions about the past, present, and future of fiction. Read an exclusive interview with McGurl here at Esquire.
Beautiful World, Where Are You, by Sally Rooney
Farrar, Straus and Giroux
Expectations were high for Beautiful World, Where Are You, Rooney's first outing since she became a global literary phenom—and her 2021 novel doesn't disappoint. In these pages, Rooney explores the intertwined lives of four twenty-somethings: in one corner, we have Alice, a novelist who takes up residence in the Irish countryside following a psychiatric breakdown, and Felix, a local warehouse worker with whom Alice begins a noncommittal tryst. Alice's oldest friends are Eileen, a dissatisfied magazine editor with big ideas, and Simon, Eileen's on-again, off-again beau, an earnest and devout political activist. In Alice, Rooney's anxieties about precocious literary success come into view. At once stylistically consistent with her previous novels and touched with a maturing sensibility, Beautiful World, Where Are You lucidly explores the ways we break up and make up in a world on fire.
Palmares, by Gayl Jones
When Toni Morrison discovered Jones in the seventies, she said of her debut novel, Corregidora, "No novel about any Black woman could ever be the same after this." Palmares, Jones' long-awaited fifth book, is a blistering return to form worth the two decade wait. Set in colonial Brazil, Palmares is the story of Almeyda, a young enslaved woman spirited away to Palmares, the last of the nation's seven fugitive slave settlements. When Palmares is razed in the night by Portuguese soldiers, Almeyda travels Brazil's luscious landscapes in search of her missing husband, only to find that it may take a medicine woman's enchantments to bring him back. Gorgeously suffused with mystery, history, and magic, Palmares is a remarkable new outing from a major voice in American letters.
A Calling for Charlie Barnes, by Joshua Ferris
With A Calling for Charlie Barnes, Ferris has written his finest novel yet: a fabulist yarn about a flawed father in the twilight of his life, whose numerous get-rich-quick schemes and busted marriages have vaulted the American Dream forever out of his reach. Our narrator is Jake Barnes, Charlie's son, whose earnest but unreliable memories of his father call the narrative's very fabric into question: how can we rightly remember those closest to us? Does our intimacy blot out the truth? By turns lively, laugh-out-loud funny, and tear-jerking, this is Ferris at the height of his powers.
Billy Summers, by Stephen King
King's latest endeavor begins with a familiar premise: ex-Marine sniper Billy Summers, a principled hit man on the eve of retirement, agrees to do one last job. With a $2 million payout looming, Billy goes undercover to assassinate a criminal, but the cover his employers dream up hits a nerve: while masquerading as a novelist, avid reader Billy sets to the task of writing his own lightly fictionalized autobiography, unspooling the wounds of a traumatic childhood and a bruising tour of duty in the Iraq War. Billy's escape from the wreckage of the job is complicated by Alice, a young woman he rescues after her brutal gang rape, who becomes an unlikely partner in his plans to get even. Remembering a Tim O'Brien aphorism, that fiction "was a way to the truth," Billy writes his way through the morass of his past and present, making for a poignant story about how fiction can redeem, heal, and empower. Read an exclusive interview with King here at Esquire.
Harlem Shuffle, by Colson Whitehead
Whitehead goes back to his literary beginnings in his first noir since 1999's The Intuitionist. In Harlem Shuffle, it's 1959, and used furniture salesman Ray Carney is expecting a second child with his wife. The son of a small-time crook, Ray has worked hard to become an upstanding member of his community, but when money gets tight, Ray is soon wrapped up in a risky caper to rob "the Waldorf of Harlem." Whitehead's Harlem—"that rustling, keening thing of people and concrete"—pulses with a vibrant heartbeat, evoked through bars and greasy spoons and Strivers' Row townhomes. In this page-turning novel about how good people come to justify lives of crime, a master storyteller delivers beautifully rendered people and places.
Matrix, by Lauren Groff
Groff's first novel since Fates and Furies (which dropped in 2015) turns the clock back—way back. In these incandescent pages, Groff reverently imagines her way into the life and lore of Marie de France, the twelfth-century poet considered the first woman to write poetry in French. Cast out from the court by Eleanor of Acquitaine, seventeen-year-old Marie washes up at an impoverished English abbey, where she transforms from a reluctant refugee to a fiercely devoted leader. Through great works of construction and community, Marie fashions the now-wealthy abbey into an "island of women," all while furtively writing the divinely-inspired poems that made her name. Woven from Groff's trademark ecstatic sentences and brimming with spiritual fervor, Matrix is a radiant work of imagination and accomplishment.
Nightbitch, by Rachel Yoder
In this unforgettable debut novel, Yoder delivers an outrageous Kafka-esque parable about the mundanity and monstrosity of early motherhood. Our protagonist, an artist turned stay-at-home parent known only as "the mother," has become a husk of herself after two years of raising a toddler without the support of her husband, who's all-too often away on weekly business trips. Soon, her mind and body begin to change; she grows dense patches of hair, her teeth sharpen, and she develops canine impulses. It's only through her surreal transformation into "Nightbitch" that she experiences liberation from the pressure cooker of motherhood. Yoder touches on a kaleidoscope of themes, from the towering inferno of female rage to grieving the loss of self that accompanies motherhood, all of it undergirded by feral, ferocious scenes of our heroine feasting on rabbits and pissing on the lawn. Nightbitch will grab you by the scruff and refuse to let go. Read an exclusive interview with Yoder here at Esquire.
Falling, by T.J. Newman
Written by a former flight attendant while she worked red eye trips, this bruising thriller unfolds over the course of one transcontinental flight. When the pilot's family is kidnapped, he has a choice: crash the plane to save his loved ones, or deliver his 130 passengers safely and let his family die. With a terrorist organization holding the plane captive, the pilot and his resourceful crew must race against time to do the impossible; meanwhile, an impulsive FBI agent stationed on the ground goes rogue to save lives. Expect major anxiety as this nail-biter barrels to a stunning conclusion.
Somebody's Daughter, by Ashley C. Ford
In this searingly honest memoir, Ford recounts her turbulent coming of age in Indiana, where she was raised by a volcanic and sometimes abusive mother. Her childhood was haunted by the specter of her incarcerated father, whom she visited only occasionally during his decades in prison, but idealized as the loving and supportive parent she lacked. When an adult Ford learns that her father will be released after almost thirty years, she is ushered to reckon with the heinous crime he committed. Ford's vulnerability on the page is an extraordinary feat, as she masterfully traces how the yearning girl she once was became the empowered woman she is today.
The Other Black Girl, by Zakiya Dalila Harris
Get Out meets The Devil Wears Prada in the summer's buzziest debut: a blistering work of semi-autobiographical fiction about Nella, the lone Black employee at Wagner Books. The arrival of Hazel, another Black editorial assistant, seems like the answer to Nella's prayers—but Hazel isn't the ally she seems to be. When Nella begins to receive threatening anonymous notes demanding that she leave Wagner, she immediately suspects Hazel. The truth is far more sinister, exposing Nella to a dangerous conspiracy that alters her worldview forever. In this powerful story of racism, privilege, and gatekeeping's damage to the Black psyche, Harris puts corporate America on blast. Read an exclusive interview with Harris here at Esquire.
How the Word Is Passed, by Clint Smith
Little, Brown and Company
The summer's most visionary work of nonfiction is this radical reckoning with slavery, as represented in the nation's monuments, plantations, and landmarks. As he tours the country, Smith observes the wounds of slavery hiding in plain sight, from Confederate cemeteries to plantations turned tourist traps, like Monticello. As he considers how the darkest chapter of our nation's past has been sanitized for public consumption, Smith explores how slavery has shaped our collective history, and how we might hope for a more truthful collective future.
Appleseed, by Matt Bell
In this epic speculative novel, Bell braids three narrative strands: the eighteenth-century rise of a proto-Johnny Appleseed, a portrait of civilization on the brink of ecological collapse fifty years from now, and the tale of the next millennium's inhospitable Earth, plunged into a new Ice Age. Together, these narrative threads coalesce into a gripping meditation on manifest destiny and humanity's relationship to this endangered planet, making for a breathtaking novel of ideas unlike anything you've ever read.
An Ordinary Age, by Rainesford Stauffer
All too often, we're told that young adulthood will be the time of our lives—so why isn't it? Stauffer explores the diminishing returns of young adulthood in this soulful book, providing a meticulous cartography of how outer forces shape young people's inner lives. From chronic burnout to the loneliness epidemic to the strictures of social media, An Ordinary Age leads with empathy in exploring the myriad challenges facing young adults, while also advocating for a better path forward: one where young people can live authentic lives filled with love, community, and self-knowledge.
The Atmospherians, by Alex McElroy
McElroy's thrilling debut novel centers on Sasha, a wellness influencer who comes into the crosshairs of men's rights activists when a troll publicly blames her for his suicide while live-streaming the act. Sasha lives in a hyper-real speculative world plagued by "man hordes": groups of men who temporarily lose consciousness and wreak havoc on society. Sasha's fall from grace leads to a reunion with her oldest friend, a struggling actor who persuades her to sign on as his partner in The Atmosphere, a cult to reform toxic men. Darkly funny and glitteringly satirical, The Atmospherians unforgettably takes aim at wokeness, wellness, and toxic masculinity. Read an exclusive excerpt here at Esquire.
Third Eye Rising, by Murzban F. Shroff
In these warm and wise parables of an ever-changing India, Shroff explores the tension between spiritual faith and modern life. In the harrowing title story, a dowry-less bride is forced to perform an agonizing ritual by her sadistic in-laws. Another unforgettable story invites us into the mind of a sacred cow, who narrates a confrontation between patrons at her temple. Each richly imagined story rings out with soulful truths about the collision between time-honored traditions and twenty-first century values, making for a stirring collection about where the past and present collide.
The Final Revival of Opal & Nev, by Dawnie Walton
In this striking debut novel, structured as a polyphonic oral history, a magazine editor traces the electrifying origin story of Opal Jewel, an Afro-punk performer, and Nev Charles, an English singer-songwriter. Together the duo produced a singular seventies sound, until they flamed out when a photograph of Opal wrapped in a Confederate flag emerged from a gig turned riot. Decades later, Opal and Nev's 2016 reunion tour is threatened by a shocking secret. Walton brings rock and roll to life in this powerful story of art and activism's intersections.
The Man Who Lived Underground, by Richard Wright
What if you could look at life from outside of life? What would you see? That's the provocative question posed in this previously unpublished novel from one of the twentieth century's greatest writers, wherein a Black man named Fred Daniels is apprehended by the police, brutally tortured, and forced to sign a confession for a violent crime he did not commit. To escape his captors, Daniels flees into the city's underground sewers, where he transforms into someone else entirely. Beneath an unfair world, Daniels tunnels into the basements of local establishments, leading him to startling truths about morality, injustice, and what matters most when the world's systems are stripped away. Though the novel was written in the 1940s, its visceral vision of crime and punishment continues to hold modern resonance.
Last Call, by Elon Green
In this gripping true crime story about the Last Call Killer, who preyed on New York City's queer men during the 80s and 90s, Green foregrounds the shamefully forgotten lives of the killer's known victims. Not only does he consider the profound losses carved out by their murders, but also the role of homophobia in shaping their lives and deaths. Green thoroughly sketches the queer bar scene of the era, ravaged by the AIDS crisis, and the law enforcement indifference that allowed the killer to lure men to their gruesome deaths. In these riveting pages, Green reclaims a time, a place, and a community, weaving together a decades-long forensic investigation with a poignant elegy to murdered men.
Early Morning Riser, by Katherine Heiny
Few writers so memorably capture the quirky interior lives of their characters as Heiny, the author of Standard Deviation. She returns to form with Early Morning Riser, a wry and wise novel about the intertwined romantic lives of the residents of a small Michigan town. New-in-town Jane falls hard for handyman Duncan, but struggles to come to terms with the growing knowledge that Duncan is the local casanova, having slept with nearly every woman in town. When a tragic car crash binds Jane forever to Duncan, his ex-wife, and his mysterious coworker, Heiny soars in her offbeat examination of small-town baggage and found families.
Great Circle, by Maggie Shipstead
This sweeping novel, beginning in 1914 and clocking in at just under six hundred pages, revolves around two lead characters: Marian Graves, a thrill-seeking female aviator who disappears over Antarctica, and Hadley Baxter, the ambitious actress set to play Marian in a biopic a century later. Marian's globe-trotting story of adventure, courage, and longing moves through Prohibition-era Montana, Alaska, and the South Pacific, culminating in her fateful disappearance during a record-setting pole-to-pole flight. Years later, Hadley's determination to break free of tabloid celebrity sees her quest for self-determination overlap with Marian's, making for a mellifluously intertwined meditation on how women chart their own courses, in the sky and on the ground.
Aftershocks, by Nadia Owusu
Nadia Owusu is the daughter of an Armenian-American woman who all but abandoned her as a toddler and a larger-than-life Ghanaian diplomat who died when she was thirteen years old. That alone is enough to pull you into her story. Owusu interrogates her stateless, motherless upbringing in this dazzling memoir, reflecting on how she grew up both everywhere and nowhere. Now an adult, Owusu ruminates on the lingering claw marks of loss—of country, of family, of innocence—while charting her peripatetic journey across continents in search of a homeland to call her own. Powerfully and poetically told, Owusu's remarkable story chronicles the lasting legacies of grief and trauma, as well the thorny, non-linear journey of healing.
Dog Flowers, by Danielle Geller
Geller's skill as an archivist takes center stage in her formally ambitious memoir, constructed from the ephemera of her late mother's life, which includes diaries, receipts, photographs, and letters. This fragmented inheritance sends Geller spinning unflinchingly backward through the alcoholism and neglect that colored her childhood, as well as through her mother's slippery reminiscences of her upbringing in the Navajo Nation. Moved by her mother's stories, Geller sets out to discover her heritage, heading to the Navajo reservation to reconnect with her estranged family—and with the part of herself she's never known. In this transcendent story, Geller refuses to look away from the agonizing cycles of abuse and addiction, while also writing with deep compassion about the limitations of the people we love.
Detransition, Baby, by Torrey Peters
In this electrifying debut novel, three lives coalesce around an unexpected pregnancy, forcing a bittersweet examination of identity, parenthood, and family. When Ames learns that his boss-turned-lover is pregnant, he confesses that he once identified as a trans woman, then hatches a plan for his lover to co-parent with his ex-girlfriend, a lonesome "trans elder" yearning to become a mother. In this compassionate, gut-punching story, Peters leans all the way into the tragicomedy of how families and identities are formed, making for a deeply searching novel that resists easy answers. Read an exclusive excerpt here at Esquire.
Concrete Rose, by Angie Thomas
In this moving prequel to The Hate U Give, the smash bestseller that launched Thomas into the literary stratosphere, Thomas returns us to Garden Heights while turning back the clock seventeen years, transporting us to the fraught young adulthood of Maverick Carter. At seventeen years old, Maverick has inherited his imprisoned father's gang affiliation, and he sells hard drugs to make money while attending high school. When Maverick becomes a father, he decides to go straight, but the astronomical cost of leaving the gang soon threatens to tear him apart. Through Maverick's powerful coming of age story, Thomas probes bittersweet truths about boyhood, manhood, and the winding road in between.
A Swim in a Pond in the Rain, by George Saunders
"The part of the mind that reads a story is also the part that reads the world," George Saunders writes in A Swim in a Pond in the Rain. It's perhaps the truest distillation of Saunders' visionary life and work, encapsulating the characteristic generosity and humanity of his artistic outlook. Saunders has spent over two decades teaching creative writing in Syracuse University's MFA program, where his most beloved class explores the 19th-century Russian short story in translation. In A Swim in a Pond in the Rain, Saunders has distilled decades of coursework into a lively and profound master class, exploring the mechanics of fiction through seven memorable stories by Chekhov, Tolstoy, Turgenev, and Gogol. In these warm, sublimely specific essays, Saunders' astounding powers of analysis come into full view, as does his gift for linking art with life. By becoming better readers, Saunders argues, we can become better citizens of the world.
Under a White Sky: The Nature of the Future, by Elizabeth Kolbert
The Pulitzer Prize-winning author of The Sixth Extinction returns with another sobering look at our Anthropocene Epoch, this time centered not on the countless calamities ahead, but on the trailblazing efforts of scientists to turn back the doomsday clock. Kolbert describes the subjects of Under a White Sky as "people trying to solve problems created by people trying to solve problems"; she turns her lens to human interventions in nature, like the storied redirection of the Chicago River, and to the pressing need for further intervention to correct our folly. Traveling everywhere from the Great Lakes to the Great Barrier Reef, she chronicles her encounters with scientists, who are pioneering cutting-edge technologies to turn carbon emissions to stone and shoot diamonds in the stratosphere. Heralded by everyone from Barack Obama to Al Gore, Kolbert's urgent, deeply researched text asks if our ingenuity can outrun our hubris.
Craft in the Real World: Rethinking Fiction Writing and Workshopping, by Matthew Salesses
In this firmament-shattering examination of how we teach creative writing, Salesses, a novelist and professor, builds a persuasive argument for tearing up the rulebook. Tracing the traditional writing workshop to its roots in white, male cultural values, Salesses challenges received wisdom about the benchmarks of "good" fiction, arguing that we must reimagine how we write and how we teach. Only then will our canon and our classrooms be the inclusive, expansive spaces we want them to be.
Let Me Tell You What I Mean, by Joan Didion
From a titan of American letters comes a compendium of twelve early pieces, never before anthologized together, which find everyone from Martha Stewart to Ernest Hemingway in Didion's crosshairs. Each essay showcases Didion at her very best, spotlighting her incisive reporting, her steely narrative gaze, and her commanding gifts as a prose stylist. Anthologized together in this compact volume, these peerless essays remind us just why Didion looms so large in the pantheon of American literature.
Love Is an Ex-Country, by Randa Jarrar
Through the lens of a transformative cross-country road trip from California to Connecticut, Jarrar recounts her lifelong hunger for liberation from the forces of domestic violence, doxxing, and systemic racism. Along the interstate, she tangles with racist truck drivers, destroys Confederate flags in the desert, and pays a visit to the Chicago neighborhood where her immigrant parents lived when they first touched down in the United States. This visceral, unforgettable memoir is Jarrar's barbaric yawp, asserting her triumphant choice to live joyfully in a hostile world.
Surviving the White Gaze, by Rebecca Carroll
Carroll's searing memoir recounts her complicated childhood as the only Black person in a rural New Hampshire town, where even the love of her adoptive white parents could not answer the incompleteness within her. When her white birth mother enters the picture to cruelly undermine Carroll's Blackness and self-worth, the aftershocks reverberate across Carroll's lifetime, sending her spiraling through a pattern of self-destructive behaviors in search of her racial identity. In this vulnerable and layered meditation on race, adoption, and family, chosen and otherwise, Carroll unspools a poignant story of becoming.
Land of Big Numbers, by Te-Ping Chen
Chen's remarkable debut collection of stories unfolds across the modern Chinese diaspora, pinballing between acutely observed realism and tragicomic magical realism. In one story, a man becomes addicted to chasing the highs and lows of the volatile Chinese stock market; in another, a group of commuters remain trapped in a subway station for months on end, awaiting permission to leave. Each haunting, exquisitely crafted story poses powerful questions about freedom, disillusion, and cultural thought, firmly establishing Chen as an emerging visionary to watch.
Milk Fed, by Melissa Broder
The novelist and viral poet behind So Sad Today returns with her outstanding second novel, a bold and luscious story of desire in all its forms—for food, for sex, for belonging. Twenty-four-year-old Rachel has replaced Judaism with calorie restriction as her religion, but when she begins a three month detox from her impossible-to-please mother, who prizes thinness at all costs, her obsessively structured life soon changes course. Enter Miriam, the devout Orthodox heiress to a frozen yogurt fortune, who wants nothing more than to feed Rachel. When Rachel's psychosexual obsession with Miriam spirals out of control, it leads to startling insights about faith, family, and food. Rarely has the fraught intersection of pleasure, appetite, and diet culture been written about so deliciously as in Milk Fed.
Fake Accounts, by Lauren Oyler
One of the year's sharpest debut novels, Fake Accounts opens on the eve of Donald Trump's inauguration, when a young woman snooping on her boyfriend's phone discovers his secret life as an online conspiracy theorist. She plots to end the relationship, then decamps to Berlin, where the dizzying weight of her own falsehoods soon warps her reality. Told in our narrator's seductive, incisive, and often deceptive voice, Fake Accounts is a ferociously smart dissection of the social media age, where we're long on carefully-crafted fictions and short on truth.
We Had a Little Real Estate Problem: The Unheralded Story of Native Americans & Comedy, by Kliph Nesteroff
Nesteroff traces the long and shameful marginalization of Native American comedians in this deeply researched volume, beginning as early as the 1800s, when Native Americans were forced to perform as caricatures of themselves in traveling Wild West shows in order to avoid imprisonment. The book toggles between historical analysis and modern-day interviews with emerging Native comedians, who are struggling to break into show business amid the dearth of opportunities on reservations. Nesteroff also deconstructs caricatures of Native Americans as stoic people, highlighting an irreverent and often hilarious chorus of voices aching to be heard.
No One Is Talking About This, by Patricia Lockwood
Never has the experience of being Extremely Online been more viscerally rendered than in No One Is Talking About This, Lockwood's astonishing novel about a viral celebrity who travels the world on the back of her popular tweets. It takes a family tragedy to reawaken her to the world beyond her screen, where she's reminded that the internet can't contain the wonders and horrors of real life. Written in a style at once lyrical and fragmentary, brimming with memes and texts, this novel locates both the profane and the profound in how we live online. No One Is Talking About This will frighten you, implicate you, and scrape your guts out, in the best way possible.
Infinite Country, by Patricia Engel
Avid Reader Press / Simon & Schuster
Beginning unforgettably with a young girl's high-octane escape from a Catholic reform school, Engel's sweeping novel gives voice to three generations of a Colombian family torn apart by man-made borders. When Elena and Mauro move their children to the United States, the cruelty of deportation sunders their family, but never their bonds. Gorgeously woven through with Andean myths and the bitter realities of undocumented life, Infinite Country tells a breathtaking story of the unimaginable prices paid for a better life.
What's Mine and Yours, by Naima Coster
Set in the foothills of North Carolina, Coster's gripping sophomore novel centers on two mothers: Jade, a Black single mother striving to set her son up for success in a racist world, and Lacey May, a white woman who refuses to recognize the heritage of her three half-Latina daughters. Their small community is riven when the predominantly white high school begins accepting students from the largely Black side of town; meanwhile, when Jade's son and Lacey May's daughter grow close during a school play, the two families become bound forever. Coster's remarkable characters, each one of them authentically flawed and gorgeously realized, propel this wise and loving story ever forward, making for a graceful meditation on family, inequality, and the ties that bind.
Klara and the Sun, by Kazuo Ishiguro
In Ishiguro's first publication since winning the Nobel Prize for Literature in 2017, we meet the humanoid robot Klara, an Artificial Friend designed to be a child's companion. Sunning herself in the display window of a store, Klara ruminates on the world passing her by, hoping all the while to be chosen. When she is at long last adopted by a teenager named Josie, their growing bond is threatened by Josie's terminal illness. Tender and suspenseful, the novel probes timeless questions about personhood, morality, and what makes a good life.
The Committed, by Viet Thanh Nguyen
In this blistering sequel to 2015's Pulitzer Prize-winning The Sympathizer, Nguyen's nameless North Vietnamese spy, last seen speeding across the sea to an uncertain future, washes up as a refugee in Paris, where he embeds himself in the French criminal underworld of the 1980s. To survive his harrowing life as an outsider, the Sympathizer deals drugs to the upper echelons of political and intellectual society, but he can't shake traumatic memories of his past, nor plot a trouble-free future. Like The Sympathizer, The Committed rewards repeated reading, deepening with each read from a noirish literary thriller into an elegant treatise on colonialism and identity. You'll want to sit with this one again and again for years to come.
Mona, by Pola Oloixarac
Farrar, Straus and Giroux
On the morning that Mona, a young Peruvian-American writer, is set to fly to a Swedish convention where she's been nominated for a prestigious literary prize, she wakes up covered in inexplicable bruises. At the convention, she longs to be subsumed by the familiar rhythms of the professionalized literary world, rife as it is with resentful and entitled men, but the haunting mystery of what's happened hems in at the edges of her consciousness. At once a brutally observed satire of literary society and a tragic story of how identity can be commodified, Mona is a daring new work from one of Argentina's most exciting novelists.
How Beautiful We Were, by Imbolo Mbue
In the fictional African village of Kosawa, the locals live in fear of Pexton, a predatory American oil corporation, whose destructive practices pollute the water and the farmland. When children begin dying after ingesting toxic drinking water and the corrupt government turns a blind eye, the villagers mount a courageous uprising—one that comes at a steep personal cost. A generation of narrative voices, many of them children, shape this sweeping, elegiac story of capitalism, colonialism, and boundless greed, reminding us of the myriad ways we fail to make a better world for our children.
Libertie, by Kaitlyn Greenidge
Inspired by the life of one of the first Black female physicians in the United States, this mesmerizing novel begins in Reconstruction-era Brooklyn, where Libertie Sampson is expected to follow her mother's path in the medical field, despite her musical calling. When a Haitian doctor proposes marriage, promising to live as her equal in Haiti, she elopes with him, only to discover that colorism and sexism reign supreme on the island. Freedom in all its forms comes under Greenidge's powerful lens: freedom from oppression, freedom to choose one's own path, freedom to love and forgive. What emerges from her careful study is a powerful, transporting story about self-determination in an oppressive world.
A Little Devil in America: Notes in Praise of Black Performance, by Hanif Abdurraqib
The celebrated author of Go Ahead in the Rain returns with a far-reaching collection of twenty essays, each one a remarkable synthesis of criticism, autobiography, and cultural study about Black performance in America. Abdurraqib meditates on performances past and present, spotlighting everything from Soul Train to Whitney Houston, Josephine Baker to the Wu-Tang Clan. He illuminates what's personal and political about Black performance, weaving a jubilant love letter to the resilient entertainers who've graced stages both big and small.
This content is created and maintained by a third party, and imported onto this page to help users provide their email addresses. You may be able to find more information about this and similar content at piano.io
Advertisement – Continue Reading Below