47 Best Books of 2020 (So Far) – Top New 2020 Book Releases to Read – Esquire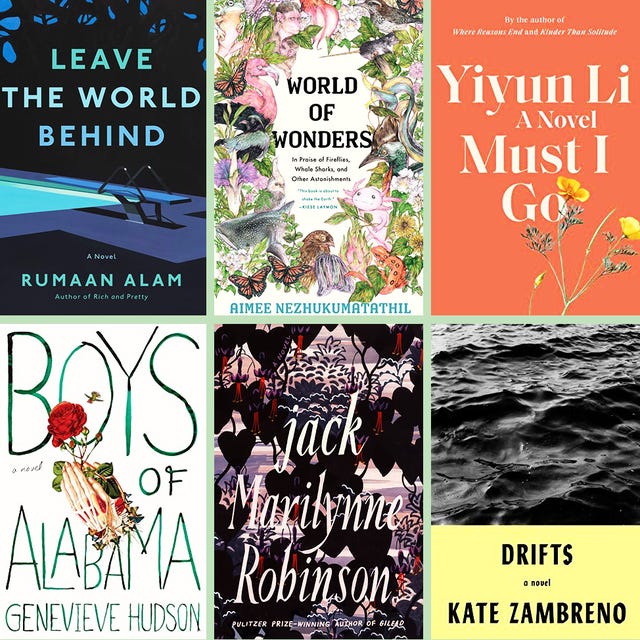 Before this singularly unusual year barrels to an end, we all have one more hurdle to cross: an atypical holiday season. To stop the spread, many Americans will be celebrating the holidays alone or in smaller gatherings, meaning that for some, dread and loneliness are already creeping in. But rest assured, you're never alone in the company of a good book.
That's where we come in, with this list of our favorite books of 2020. Whether you're looking to lose yourself in a novel that will transport you to another place or explore the multifaceted world of short stories, there's something here for you. Our favorite reads of the year range from incisive reporting on hot button subjects like Silicon Valley and the housing crisis to exemplary, absorbing fiction about such diverse subjects as family, identity, and romance. Whether you're looking to buy books as holiday gifts for loved ones or simply as a gift to yourself, these books are unforgettable keepsakes. If you're staring down a lot of long winter nights alone, with a slate of books this good, you'll feel the warmth of literary companionship in no time. Watch this space—we'll be adding more before the year is over.
Advertisement – Continue Reading Below
Can't Even: How Millennials Became the Burnout Generation, by Anne Helen Petersen
Houghton Mifflin Harcourt
In this razor-sharp book of cultural criticism spun off from her viral BuzzFeed article, journalist and academic Anne Helen Petersen explores the forces that have left a much-maligned generation feeling disempowered and dispossessed, from the gig economy to the monetization of hobbies to the identity-bending influence of social media. With blistering prose and all-too vivid reporting, Petersen lays bare the burnout and despair of millennials, while also charting a path to a world where members of her generation can feel as if the boot has been removed from their necks.
Just Us: An American Conversation, by Claudia Rankine
The visionary writer of Citizen returns with Just Us, a lyric arrangement of poems, essays, and images asking how a historically divided nation might come together to dismantle white supremacy. In a far-ranging imagined conversation, a chorus of disparate voices engage in a call and response discussion, with each encounter rooted in a different corner of American life. In Citizen, Rankine redefined how we think about and understand race; in Just Us, she redefines how we might converse about race across divisions, making for a meditative, powerful rumination on the life-changing importance of hard conversations, even in the absence of answers.
Red Pill, by Hari Kunzru
A master of weaving political life and postmodern anxiety into fiction, Kunzru, the acclaimed author of White Tears, returns to form with Red Pill, a dazzling novel about an American writer abroad who falls down the rabbit hole of alt-right message boards and government conspiracies. Rarely has our contemporary animus been so nakedly illuminated on the page, with Kunzru spinning a dizzying allegory from the puzzling, paranoid mind of a narrator set adrift in unreality.
Pizza Girl, by Jean Kyoung Frazier
In Frazier's explosive debut novel, our nameless narrator is eighteen, pregnant, and feeling adrift as she stumbles through her days as a Los Angeles pizza delivery driver, all the while grieving the death of her alcoholic father and avoiding the smothering ministrations of her loving mother and boyfriend. Everything changes when she delivers a peculiar order to a suburban housewife, who becomes the locus of a pyschosexual obsessesion with dangerous consequences. In just 193 wry, propulsive pages, Pizza Girl hurtles through the dark waters of obsession and addiction, as our dysfunctional Pizza Girl downs Miller Lites while studiously avoiding any semblance of forward motion. Yet at the same time, the novel bristles with biting wit and optimism, each page a feast of Cheeto-fingered heart, humor, and lyricism.
Must I Go, by Yiyun Li
In Must I Go, Li captures a difficult woman nearing the end of her days. At age 88, after three husbands, five children, and seventeen grandchildren, Lilia Liska looks back on her uncompromising life from the numbing stasis of a nursing home, where she fills her hours annotating the newly published diaries of Roland Bouley, a deceased writer with whom she once had a fleeting affair. Though Lilia was merely a footnote in Roland's life, she wars with his recollection of events, speculating about his two great loves while shading in the brutal details of her own long-buried personal history. She returns unendingly to the memory of her daughter Lucy, who took her own life at 27, and to the bottomless grief of losing a child to suicide. Li's greatest talent lies in her peerless experimentation with our language of human emotion—its insufficiencies, its dissatisfactions, its refusal to capture the depth and breadth of our feelings. Must I Go is another remarkable entry in Li's decades-long tug-of-war with the English language, which, luckily for her devoted readers, shows no signs of abating anytime soon.
Boys of Alabama, by Genevieve Hudson
When Max relocates from the cool reserve of Germany to the sweaty American south, he brings along a host of supernatural secrets. But as he's embraced by his new football teammates, his red dirt Alabama surroundings, steeped in the past and unwaveringly Christian, make him question everything—from his faith and sexuality to the very nature of his desire. Hudson's debut, written in undeniable, visceral prose, is downright ravishing. —Madison Vain
A Children's Bible, by Lydia Millet
From one of our finest writers of climate fiction comes a harrowing novel of environmental dystopia, wherein a group of families summering together at a vacation home are stranded by the climate apocalypse. When the storm to end all storms descends on their remote rental, the teenagers conclude that their debauched parents are unfit to care for them and strike out on their own, only to encounter all manner of biblical calamities in the wilderness. In an age when the dispossessed young generation blames the pillaging older generation for their ravaged environmental inheritance, Millet's work has never been more timely.
How Much of These Hills Is Gold, by C. Pam Zhang
In this glittering debut, Zhang sets the scene in the dying days of the gold rush, where two orphaned children of Chinese immigrants roam the ravaged American west in search of a new home, only to meet hostility everywhere they go—not just from the unforgiving landscape, but from the racist and inhospitable locals. As these siblings form their nascent identities under the colossal weight of their loss, they reimagine their own history and their own heritage. This novel is at once a thrilling adventure, a tender coming-of-age story, an excavation of the corrosive mythmaking surrounding the American west, and the arrival of a major literary talent.
Hollywood Park, by Mikel Jollett
Not many rock memoirs begin on the grounds of an infamous American cult, but that's just one of the things about the Airborne Toxic Event frontman's personal tome that separates it from the droves. Cinematic in its recounting of his family's exit from the Synanon commune in California, Jollet's subsequent unraveling of the abuses that shaped his stolen childhood is piercing. His pain feels at once unknowable and universal, and his rhapsodic writing makes Hollywood Park impossible to put down. —Madison Vain
They Wish They Were Us, by Jessica Goodman
Entree into the ruling inner circle of Long Island's elite Gold Coast Prep gets served up deliciously in this debut YA novel from Cosmopolitan senior editor Jessica Goodman. The chilling murder mystery is an irresistible hook, but it's the careful building of each character's fraught, internal conflicts that really digs in, elevating the work from a high society whodunit to a knowing mission to not just uncover one's own identity, but to build it. —Madison Vain
Long Time Coming: Reckoning with Race in America, by Michael Eric Dyson
Dyson's formidable twenty-third book sees its author hold a poignant conversation with Black Americans killed at the hands of police officers—a conversation that occurs "with them, about them, through them, sometimes to them and beyond them." In five elegantly argued chapters, each framed as a wrenching letter to Black victims of racist terror from Breonna Taylor to Eric Garner, Dyson traces the abhorrent legacy of systemic racism, from centuries-ago slave ships to contemporary police violence. Together, the letters depict "the gallery of grief that grips the collective Black soul," whether the grief takes root in police violence or in the quotidian daily assaults on Black personhood. Inspired by the colossal worldwide protests after the murder of George Floyd, Long Time Coming is at once a blistering chronicle of Black pain and a rousing call to arms, each chapter threaded through with an indefatigable hope for progress.
What Would Frida Do?: A Guide to Living Boldly, by Arianna Davis
If all you know about Frida Kahlo is her visionary artwork, then you're long overdue for a re-education. Get your feet wet with Davis' luminous mediation on Kahlo's extraordinary life, where self-help meets biography in an inspiring narrative of what modern women can learn from one of the twentieth century's greatest artists. From Kahlo's brazen creativity to her unapologetic politics, her boldness in marriage to her lifelong battle with chronic illness, Davis explores the contemporary lessons we can mine from Kahlo's courageous way of life.
The Arrest, by Jonathan Lethem
From one of our finest novelists comes an ambitious new work of speculative fiction, set in a ravaged world where, in an event referred to as "The Arrest," all electronics and appliances have spontaneously broken down. Sandy Duplessis, formerly a Hollywood script doctor, now assists the butcher and delivers groceries in rural Maine, where he reflects often on the high-flying years he spent working with Hollywood power broker Peter Todbaum. Sandy's fragile peace is interrupted when Todbaum crashes into town behind the wheel of a nuclear-powered supervehicle, which he drove across the United States for suspect reasons, leaving a trail of destruction and dishonesty in his wake. In Sandy's madcap adventure to stop his onetime partner, Lethem sends up our cultural obsession with post-apocalyptic stories, making for a wry, spirited novel that will linger in your imagination for years to come.
Memorial, by Bryan Washington
The acclaimed author of Lot returns with another dazzling foray into literary Houston, where he turns his lens to two complicated men: Benson, a Black daycare teacher, and Mike, a Japanese-American chef. Benson and Mike's years-long live-in relationship is on the rocks, with each one of them too apathetic to rekindle their romance or to end it. Their companionable stasis is turned upside down when Mike receives news that his estranged father is dying in Japan just as his mother arrives on their doorstep, forcing Benson and Mitsuko to become unlikely roommates in Mike's absence. With crackling dialogue and gimlet-eyed humor, Washington paints a vivid, poignant portrait of how love, romantic and familial, is weathered and ultimately deepened by time.
African American Poetry: 250 Years of Struggle & Song, by Kevin Young
In this landmark volume, clocking in at a whopping 1170 pages, one of our most talented contemporary poets presents the most ambitious anthology of Black poetry ever published. Beginning in 1770 and culminating in the artistic outpouring emerging through the Black Lives Matter movement, Young spotlights 250 important poets, each situated in an incisive historical and literary framework. Young also takes care to spotlight poetic movements and writing collectives, tracing the influence of creatives on the development of other creatives. Together, these 250 voices, old and new, celebrated and neglected, form a dazzling symphony of talent across generations, making for a breathtaking, expansive canon.
The Office of Historical Corrections, by Danielle Evans
In the ten years since Before You Suffocate Your Own Fool Self, readers have waited anxiously for Danielle Evans' next outing; at last, The Office of Historical Corrections is here, and it exceeds all expectations. In seven sly, haunting stories, Evans reflects our madcap world back at us, delivering a dazzling dissection of our twisted attitudes about race, culture, history, and truth. In one memorable story, a white college student is desperate to reinvent herself after a photo of her in a Confederate bikini goes viral; in another, a historian works to uncover the truth of a long-past racist tragedy. Incisive, nuanced, and deliciously complex, each of these stories proves that Evans is a bravura talent.
World of Wonders: In Praise of Fireflies, Whale Sharks, and Other Astonishments, by Aimee Nezhukumatathil
In her sensational debut book of nonfiction, Nezhukumatathil, an award-winning poet, turns her attention to the natural world, with a lyrical and imagistic look at the minor daily miracles of life on Earth, visible to anyone who stops to bear witness. In thirty bewitching essays, Nezhukumatathil spotlights natural astonishments raining from monsoon season in India to clusters of fireflies in western New York, each one a microcosm of joy and amazement. With her ecstatic prose and her rapturous powers of insight, Nezhukumatathil proves herself a worthy spiritual successor to the likes of Mary Oliver and Annie Dillard, setting the bar high for a new generation of nature writers.
Jack, by Marilynne Robinson
In the fourth installment of her towering Gilead cycle, Robinson returns as ever to the enchanting town of Gilead, Iowa, her playground for soulful contemplation of the American spirit. In this volume, Robinson introduces Jack, the prodigal son of the local minister, and Della, the schoolteacher and preacher's daughter who captures his heart. Their interracial love is star-crossed, yet Robinson traces it to its bitter end, exploring how love, even when it's painful, conveys salvation to both the faithful and the faithless. In Gilead, Robinson wrote, "This is an interesting planet. It deserves all the attention you can give it." So too does Jack, another sublime, rapturous entry into a breathtaking series.
Leave the World Behind, by Rumaan Alam
In Alam's outstanding third novel, a white family's getaway to a rented Hamptons home is disrupted by the midnight arrival of an older Black couple, who claim to own the home and ask to stay the night, as New York City has become shrouded in total darkness during an ominous blackout. With an apocalypse looming outside their walls, together the two families must endure an uncomfortable dark night of the soul, wrestling with their suspicions of one another while forming fragile bonds. Riveting and claustrophobic, Leave the World Behind invites us to sit with our discomfort and reflect on our own rushed judgments, delivering a dazzling and dark examination of family, race, class, and what matters most when the impossible becomes possible.
The Cold Millions, by Jess Walter
In his first novel since 2012's sensational Beautiful Ruins, Walter puts forth his most ambitious work yet, solidifying his place in the contemporary canon as one of our most gifted builders of fictional worlds. Set in the early twentieth century, The Cold Millions follows Gig and Rye Dolan, two orphaned brothers who hop freight trains through the American West in search of a living wage. Their travels take them to Spokane, Washington, where they find themselves swept up in the burgeoning labor rights movement and the free speech riots that rocked Spokane. It's often said that a novel contains the world; Walter brings new meaning to this phrase, peopling The Cold Millions with vaudeville stars, hobos, suffragists, tycoons, union agitators, policemen, and dozens of other vibrant characters. Warm and deeply humane, this transporting novel is a staggering achievement from a landmark writer.
Drifts, by Kate Zambreno
One of our most formally ambitious writers returns with a sublime new fiction about a woman struggling to finish her overdue novel, as she becomes increasingly obsessed with the challenge of writing in the present tense and capturing the slippery nature of time. Her creative blockage leads her to take up lengthy correspondences with her friends, as well as lose herself in the works of the dead greats, whose creative crusades shed light onto her own. Give yourself over to the undulant music of this bold novel, and let yourself be buffeted along restless journey of the narrator's creative awakening.
If I Had Your Face, by Frances Cha
In Seoul, South Korea, four young women living in the same apartment complex stumble through a K-pop-soaked cultural miasma of misogyny, consumerism, and unattainable beauty standards. Come for the tender portrait of female friendship in all its tears and triumphs, but stay for the sharp dissection of contemporary life for women, mired as it is in demeaning cultural norms, male primacy, and dwindling economic opportunities.
Sansei and Sensibility, by Karen Tei Yamashita
In these daring and delightful stories, Yamashita remixes Jane Austen's classic novels with the Japanese American immigrant experience, as seen through the lives of SoCal families in the sixties and seventies. With Mr. Darcy captaining the football team and public school bake sales replacing Austen's mannered countryside balls, Yamashita questions the wisdom of generations and the meaning of inheritance in these bold stories that transcend race, place, and time.
Godshot, by Chelsea Bieker
Religious zealotry meets environmental meltdown in Godshot, Bieker's spectacular novel about a teenager abandoned to a local cult upon her troubled mother's exile from the community. In drought-stricken Peaches, California, a charismatic cult pastor promises to bring rain―so long as his brainwashed followers complete the "assignments" he asks of them. When fourteen-year-old Lacey learns the truth of this community, built as it is on patriarchal norms and sexual abuse, she skips town on a quest to retrieve her mother. What follows is a gritty, gripping tale of girlhood, spirituality, and how salvation comes from the unlikeliest of places.
Exciting Times, by Naoise Dolan
In this wry, stylish debut, Dolan sets her sights on Ava, an Irish expat teaching English to the wealthy children of Hong Kong. Ava soon becomes romantically entangled with Julian, a rich banker who can't commit, as well as with Edith, a lawyer who inspires both envy and desire. In this witty satire of the haves and have nots, Dolan explores tender, insightful truths about the vagaries of modern love.
Memorial Drive, by Natasha Tretheway
For Natasha Trethewey, the end is very much the beginning, for both her startling new memoir and, as we learn across its pages, the second iteration of herself. The work opens in the immediate aftermath of her mother's murder—committed by Trethewey's former stepfather when the author was just 19—before confronting the years preceding the event, which she admits she'd long treated with "willed amnesia buried deep in me like a root." Propelled by the Pulitzer Prize-winning U.S. poet laureate's remarkable command of language, it's a story that burrows deep in your emotional center. And often, as the nonlinear retelling dances between years, dreams, and hazy memories, the work enraptures like a thriller, unraveling as it races against the inevitable. —Madison Vain
Last Couple Standing, by Matthew Norman
When Jessica and Mitch Butler were first married, they were one of four best friend couples—aka The Core Four—from college who'd all paired up. 15 years later, they're the only set still together. Stuck in a rut but desperate to avoid divorce, Jessica suggests they try an "evolved" marriage, where one-night stands and random hook-ups with strangers are pitched as potential ways to light a spark back home. It's an idea that spars with their relationship as much as reality, but Norman's funny and feeling writing makes for an irresistible read. —Madison Vain
The Jetsetters, by Amanda Eyre Ward
In Eyre Ward's (How to Be Lost, The Same Sky) The Jetsetters, everyone is, to put it mildly, a colossal wreck. Lucky for us, they each—all three Perkins children, plus their widowed matriarch Charlotte—also get a say. Told in alternating chapters, Eyre Ward's genuine, hilarious writing rotates between each character's perspective over the course of a week-long European cruise, producing a story of deep-seated familial discord and desire that falls apart as spectacularly as it wills itself back together. If you're in the market for an escape, look no further. —Madison Vain
Golden Gates: Fighting for Housing in America, by Conor Dougherty
What could be a dry narrative of the housing crisis is utterly gripping in Dougherty's hands, told as it is through the lens of individuals in San Francisco struggling with rising rents, housing scarcity, and poverty. Through zippy prose and deep reporting, Dougherty, a former housing reporter for The Wall Street Journal, explains why housing has become unaffordable and how we can solve the problem–that is, if we want to.
American Poison: How Racial Hostility Destroyed Our Promise, by Eduardo Porter
In this fascinating book, Porter sees the matrix of race in America. Weaving together social science research and historical context, he dissects how racism infects every stratum of American society, from unions to public education to immigration policy. Porter, a New York Times economics reporter who has covered the intersection of race and economics around the world, is uniquely conversant and globally-minded on these issues.
Had I Known, by Barbara Ehrenreich
This compendium of Ehrenreich's newspaper and magazine columns spans such diverse topics as cults, health food crazes, housework, welfare programs, and O.J. Simpson. In the age of late capitalism, Ehrenreich's prophetic eye for the brokenness of systems has never been more timely.
This Is Big: How the Founder of Weight Watchers Changed the World–and Me, by Marisa Meltzer
Little, Brown and Company
At once a biography and a memoir, this heartfelt, incisive book layers the story of Weight Watchers founder Jean Nidetch with the author's own lifelong journey through various fad diets. What emerges is a surprising portrait of a remarkable but little-known life in business, as well as a thoughtful critique of America's obsession with thinness. Meltzer, who has herself subscribed to Weight Watchers, brings a personal angle to this fascinating, far-reaching story of a phenomenon that has touched the lives of hundreds of thousands of women.
Notes from an Apocalypse: A Personal Journey to the End of the World and Back, by Mark O'Connell
In this funny, life-affirming book, O'Connell travels the globe in search of a balm to his anxieties about the impending climate apocalypse. He interviews everyone from doomsday preppers to conspiracy theorists, crafting detailed portraits of unique subcultures, each one characterized by different practical and spiritual perspectives on the end of days. With a warm, humorous outlook, O'Connell posits that even if we're going down, we're going down together.
, by Joanne McNeil
In this brilliant book, McNeil charts roving personal histories of the internet, tracing the path from forums and Friendster to today's caustic cesspool. Lurking is far-reaching and ferociously smart, told from the hearts and minds of users rather than the profit and loss statements of tech conglomerates. In centering her research on the user experience of an ever-changing internet rather than the theatrics and myth-making of Big Tech, McNeil weaves a people's history of the internet, making for a humane, big-hearted narrative of how the internet has changed–and how it changed us.
Topics of Conversation, by Miranda Popkey (out 1/7)
Formally adventurous and blisteringly current, this debut novel spanning almost two decades of conversations between women wrestles with the stories women tell about desire, friendship, and violence, among other subjects. In glittering prose, Popkey illuminates the performative nature of storytelling, assessing the degree to which the stories we tell about our lives are fictions.
Boys & Sex, by Peggy Orenstein (out 1/7)
In this follow-up to her groundbreaking Girls & Sex, Peggy Orenstein turns her reportorial lens to young men, who, in compassionate, candid interviews, reveal the fears, pressures, and longings that shape their burgeoning sexual identities. Combined with testimony from psychologists and academics, what arises from Orenstein's thorough, sensitive exploration of the subject is a clear-eyed portrait of how toxic masculinity takes root—and how we must course-correct in raising our boys before it's too late.
Cleanness, by Garth Greenwell (out 1/14)
In Cleanness, Garth Greenwell returns to the stark Eastern European landscape of What Belongs to You, his sensational 2016 debut novel. In post-Soviet Bulgaria, an American teacher sifts through the romantic entanglements of his years abroad, with bruising vignettes of love and brutality coalescing into an evocative portrait of desire's vagaries. Melancholy and lyrical, this slim volume confirms that Greenwell is among our finest writers on sex and desire.
Uncanny Valley, by Anna Wiener (out 1/14)
In this hyper-detailed, thoroughly engrossing memoir, tech journalist Anna Wiener narrates her coming-of-age in Silicon Valley during the early years of the startup boom. Yet Uncanny Valley is so much more than a memoir—it's a vivid, unflinching portrait of a changed San Francisco, a onetime haven for artists and dreamers now dangerously in thrall to the capitalist chokehold of tech monoliths. At the intersection of exploitative labor, entitled men, and ungodly amounts of money, Wiener bears witness to the fearsome future as it unfolds.
A Long Petal of the Sea, by Isabel Allende (out 1/21)
From a titan of literature comes a new novel that opens in 1930s Spain, where a pregnant widow makes a harrowing pilgrimage over mountains and oceans to escape civil war. Bound to her deceased lover's brother in a marriage of convenience, she settles in Allende's native Chile, where she builds a new home while reconsidering her relationship to the home she left behind. In this transporting novel, Allende is as transcendent and life-affirming as ever, locating joy even in the refugee experience and light even in the darkness.
The Third Rainbow Girl, by Emma Copley Eisenberg (out 1/21)
In this exhaustive investigation of a brutal double homicide in Pocahontas County, West Virginia, Eisenberg unravels the surprising story of a wrenching crime. However, The Third Rainbow Girl is also so much more—it's a deeply felt exploration of Appalachia, a land where fault lines of race, gender, and class run deep. Eisenberg, a one-time resident of Pocahontas County, never lets her former home off easy, but instead evokes a portrait at once generous and devastating.
Weather, by Jenny Offill (out 2/11)
Compact and wholly contemporary, Jenny Offill's third novel sees a librarian find deep meaning and deep despair in her side gig as an armchair therapist for those in existential crisis, including liberals fearing climate apocalypse and conservatives fearing the demise of "American values." As she attempts to save everyone, our protagonist is driven to her limits, making for a canny, comic story about the power of human need.
In the Land of Men, by Adrienne Miller (out 2/11)
In this riveting memoir, the first female literary editor of Esquire, appointed at twenty-five years old, narrates her remarkable experience as a cultural gatekeeper in a rarefied, male-dominated world. Miller's recollection of that formative chapter of her life explores her complicated friendship with David Foster Wallace; meanwhile, she also reckons with power, and the dark truth about who gets to have it.
The Illness Lesson, by Clare Beams (out 2/11)
In this thrilling work of historical fiction, adolescent girls at a school in 1870s New England are subjected to an outrageous medical treatment at the hands of paternalistic doctors. Frightening, suspenseful, and timely, The Illness Lesson explores the crushing weight of oppression and the indefatigable power of female defiance.
Minor Feelings, by Cathy Park Hong (out 2/25)
In this radical exploration of the Asian American psyche, Hong writes masterfully about her experience of "minor feelings": the painful cognitive dissonance you feel when the cultural messaging you receive contradicts the lived experience of your identity. Through cultural criticism, memoir, and historical investigation, Hong names and illuminates issues of race and gender that long went unnamed, creating a blistering new handbook to the state of race in America.
My Dark Vanessa, by Kate Elizabeth Russell (out 3/10)
My Dark Vanessa is a singular achievement—a masterpiece of tension and tone that will simultaneously grip you, horrify you, and move you. In 2000, teenage Vanessa Wye is drawn into an affair with her much-older English teacher; in 2017, when her teacher is brought to account for his abuses of underage girls amid a widespread cultural reckoning, Vanessa must reassess her mythology of their years-long relationship. With utmost sensitivity and vivid, gut-churning detail, Russell illuminates Vanessa's struggle to see the story of her life for the tragedy it truly is. Before you start My Dark Vanessa, clear your schedule for the next few days—this harrowing account of sexual abuse and its lifelong aftershocks will utterly consume you.
Enter the Aardvark, by Jessica Anthony (out 3/24)
Little, Brown and Company
Weird, wonderful, and very much of the moment, Enter the Aardvark is a landmark political novel of the Trump era. Anthony bridges political and temporal divides through a time-traveling taxidermied aardvark, which shuttles between Victorian England, where it was hunted and stuffed, and present-day Washington D.C., where its appearance on a young Republican congressman's doorstep threatens to upend his career. With heart and humor, Enter the Aardvark expertly skewers our current political climate.
Perfect Tunes, by Emily Gould (out 4/14)
Avid Reader Press / Simon & Schuster
The author of Friendship returns with a second novel about the intricacies of relationships between women, this time centered on a mother and daughter searching for answers across the mysterious gulf of the mother's past. As Marie asks questions about her mother's youth as a songwriter in New York City, Laura must open the door on a time in her life that she sought to forget. Brimming with gemlike insight and humor, Perfect Tunes is a moving investigation of love, loss, and parenthood.
This content is created and maintained by a third party, and imported onto this page to help users provide their email addresses. You may be able to find more information about this and similar content at piano.io
Advertisement – Continue Reading Below