46 Best Books by LGBTQ, Queer Authors to Read – Esquire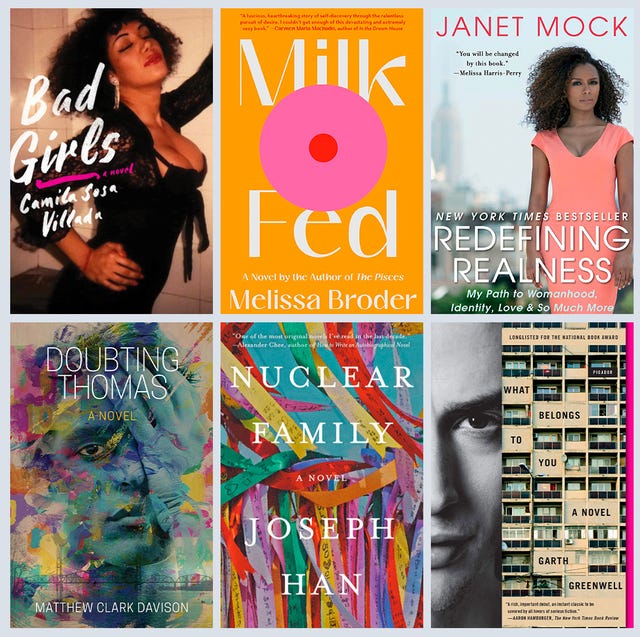 Mike Kim
Whenever I see a list of "best" LGBTQ books, I always find the usual suspects: James Baldwin, Patricia Highsmith, E. M. Forster, Audre Lorde, Christopher Isherwood. That is to say, such lists regularly name the late giants, the great and gone. Give them their due respect, of course; they have paved the literary road for so many of us queer writers working today. But what of the living legends who walk among us, or the legends-in-the-making we're keen to lift up?
To celebrate the brilliance and diversity of contemporary queer literature, here's a very small sampling of must-read queer books by living queer authors at various stages of their careers. These books cover a range of literary forms, and their authors a breadth of genders and queer identities. They are presented in no particular order.
This is not an exhaustive list. I could go on and on tenfold—and I'm sure the folks mentioned here could, too. As such, this list, much like its authors, is a living one, and will be updated periodically with new entries and recommendations. Some recommendations will come from the listed authors themselves, calling into the space other writers who inspire and move them through their work.
Advertisement – Continue Reading Below
1
Fiebre Tropical, by Julián Delgado Lopera
"You must read Fiebre Tropical by Julián Delgado Lopera!" says Andrew Sean Greer. "Written in energetic language, full of joy and anger, it's inspiring and unputdownable." I totally agree: the author gloriously captures the sweat and heat of Miami through their young queer protagonist Francisca, who recently immigrated from Bogotá with her family. The both-and-neither nature of Lopera's prose, written in both English and Spanish, generates that frisson of bucking a binary familiar to those of us who revel in the liminal space between gender, sexual, racial, and national identities.
2
Doubting Thomas, by Matthew Clark Davison
T Kira Madden recommends Matthew Clark Davison's debut novel Doubting Thomas, which follows the titular Thomas, who faces the aftermath of being falsely accused of inappropriately touching a male student at the elite private school in Oregon where he teaches. What follows is an incisive critique of class, privilege, and liberal ideals: "[It's] a phenomenal gift," Madden says, "a complex and careful layering of the inherent intersectionality of personhood, and a testament to the transcendent possibilities of storytelling."
3
What Belongs to You, by Garth Greenwell
I finally picked this book up in early quarantine and was in its custody for three fevered days, unable to turn the page fast enough. Gorgeous, melancholy, and moving, with painterly prose, truly dazzling literary depictions of sexual encounters that felt complex and human and not gratuitous, and a well-earned ache throughout. A favorite, for sure. —Isaac Oliver
4
Come Clean, by Joshua Nguyen
Joshua Nguyen's poetry collection Come Clean is a beautiful exploration of Asian American masculinity, family, and the many forms that sexuality can take. These poems experiment with form—Nguyen invents the 'American lục bát' after the traditional Vietnamese verse form; another is presented in the form of a Google Calendar—and draw from a wide range of influences, from Marie Kondo and Mitski to the domestic rhythms of laundry and the rituals of making food. Nguyen is a native of Houston currently in a doctorate program at the University of Mississippi, a queer writer on the ace spectrum, and a brilliant voice in Southern poetry. —Angela Chen
5
Small Beauty, by Jia Qing Wilson-Yang
"Jia Qing Wilson-Yang's Small Beauty is thoughtful, intricate, and beautiful in its scope and concerns. I think of it dearly and often," says Bryan Washington. And as Zeyn Joukhadar describes it: "Narrated by a mixed-race trans woman returning to her cousin's cabin in Southern Ontario after his death, it's a luminous and moving exploration of queer and trans lives lived in rural places, the process of piecing one's life back together in the face of grief, and the human, animal, and otherworldly forces that anchor us to life itself."
6
Confessions of the Fox, by Jordy Rosenberg
How to describe Jordy Rosenberg's Confessions of the Fox? Carmen Maria Machado says, "It's everything I want from a novel: metafictional, heartbreaking, gorgeously written, funny, sexy, and queer as fuck." And Garrard Conley says, "It's a novel which in its early pages offers the word 'quim' (eighteenth-century slang for female genitalia) and its cognates—tuzzy-muzzy, boiling Spot, monosyllable, Water-Mill—to 'signify any loved point of entry on the body, irrespective of gender or sex.' If that's your bag, so to speak, then go out and get this book at once."
7
No Ashes in the Fire, by Darnell Moore
Darnell Moore's No Ashes in the Fire is a thoughtful and gorgeously written memoir highlighting how important it is to love yourself because of your queerness and to see it as a path to one's liberation. It is the kind of book I wish I had access to growing up when I used to feel alone. And sadly, with our very existence under assault, I can't think of a better book to recommend to those wondering how to find freedom in the midst of all the cages being built around you. —Michael Arceneaux
8
Times Square Red, Times Square Blue, by Samuel R. Delany
I recently re-read Samuel R. Delany's Times Square Red, Times Square Blue, and I find it more valuable the more time goes by and the more we take for granted how much of a corporate Disneyland that New York's 42nd Street is now, compared to the pre-gentrified nineties when queer and queer-adjacent men found casual contact and intimacy in the area's porn theaters. Delany's pair of essays, one personal and one theoretical, continue to provoke as much as they arouse. —Meredith Talusan
9
We Came All the Way from Cuba So You Could Dress Like This?, by Achy Obejas
In these seven stories, writer and translator Achy Obejas examines the many different ways society displaces people. Her strong-willed characters—mostly, though not exclusively queer people from across the Latinx diaspora—navigate tumultuous relationships, their sense of identity and community, addiction, grief, and living with AIDS in the early nineties. Witty, sad, and full of heart, the collection also simmers with a quiet, steady hum of rage. Perhaps that's what sticks most with me even now, how Obejas captures the frustration and anger of hitting a stasis in one's life, how we long for some kind of connection to break everything open, to feel alive. —Chris Gonzalez
10
The Faggots and Their Friends Between Revolutions, by Larry Mitchell
I got this book as a gift from a poet I was in love with in my early twenties. Part fairy tale, part manifesto, the book hinges on the titular faggots' gleeful anti-assimilation and utter undermining of dominant patriarchal society. I read this at twenty-four and never looked back. DELIVER US FROM BABYLON!!!!!!!! —Brontez Purnell
11
Time Is the Thing a Body Moves Through, by T Fleischmann
This is a book-long essay about art, ice, lovers, and community—told from the perspective of someone who is changing their own body, their own gender, but not with any particular destination in mind, beyond the pull to experience life fully. To communicate how gorgeous this book is, I would need to write a blurb the same length as the book itself, and probably, I would have to use the exact same words as the book in the exact same order. —Torrey Peters
12
Bad Girls, by Carmila Sosa Villada (translated by Kit Maude)
I've heard this book talked about in Latin America for two years now, where it was a bestseller. Now it's finally translated into English: a group of travesti Sex Workers in Argentina find a child and adopt him to raise as a family—but that description doesn't get into the magic, literal and figurative, in Villada's ability to tell a story. She is a wise, uncommon, and bewitching storyteller. —Torrey Peters
13
Milk Fed, by Melissa Broder
lesbian desire + frozen yogurt = yum yum. —Samantha Irby
14
Redefining Realness, by Janet Mock
Most people today know Janet Mock through her work on the hit show Pose, but I fell in love with her through her first memoir. The book follows her coming-of-age as a multiracial trans woman growing up in Honolulu, to moving to New York and landing a job at People magazine. With vivid prose that immerses you in her world, Mock offers candid, deeply-felt reflections about her experiences with her family, her friendships, her romantic life, her relationship to gender and class and privilege, and what she had to do to survive. I'm especially inspired by the care and grace with which she renders everyone in her story. There are no one-note characters here. Just as in life, the people we meet in her book are complicated, nuanced, and always beautifully human. —Edgar Gomez
15
On Top of Glass, by Karina Manta
I love this compassionate, beautiful memoir from ice dancer Karina Manta. It sees her navigating the pressures of her sport while coming to terms with her queer identity. Manta's prose is at once fluid and hard-hitting, and I found myself impressed time and again with the rawness she was able to convey. I would fall and die immediately on the ice, so it was fun to watch Manta fly both in the rink and here on the page. I'm excited to see what she does next! —JP Brammer
16
Written on the Body, by Jeanette Winterson
When I read this book, I was in grad school, dating a man, pining after a woman, my own novel's first stirrings in my stomach. A professor told me, "You're someone who will always have longing within you." Winterson would be the salve. I wept as I read—for the gender-neutral narrator's love and loss, for the realization that I was so queer, for this reflection of self, and for how badly I needed it. —Zaina Arafat
17
Written in Invisible Ink, by Hervé Guibert (translated by Jeffrey Zuckerman)
For the last five years, I've become obsessed with the work of French writer and photographer Hervé Guibert, who chronicles, in sharp and striking diary entries, the fantasies and degradations of desire, sex, family, aging, and illness. His work is addictive: hungry for bodies and haunted by death. One excellent new volume, Written in Invisible Ink, gathers short pieces—stories and fragments of fiction—in sparkling translations from Jeffrey Zuckerman, who captures Guibert's intensity of expression, his quick turns of language, splendid and vulgar. —Richie Hofmann
18
Gods of Want, by K-Ming Chang
K-Ming Chang's inspired mix of magic and realism returns in full fabulist force in this new collection of short stories, the follow-up to her critically acclaimed debut novel Bestiary. The stories are eclectic—ghost cousins haunting a living cousin, aunties kissing women at temple, a woman in a cigarette ad coming to life—and united by Chang's fascination with the queer and quotidian in her characters' worlds. That the author is so young and her insights so piercing speaks to not only her talents, but the value in drawing from our myths, elders, and histories.
Junk is more than just poetry. It is a ride. Tommy Pico's poetics are composed of pure kinetic energy, at once stylish and intimate, cool and warm—the lyrical equivalent of an IcyHot medical patch. Described as a book-length breakup poem in couplets, this masterwork delights in the carnal and gustatory ("Frenching with a mouthful of M&Ms dunno if I feel polluted / or into it"). To the speaker, nothing is unworthy of attention, which is to say: everything is worth something. As the third book in Pico's Teebs trilogy, Junk is one show-stopping finalé.
20
Here for It, by R. Eric Thomas
R. Eric Thomas is known for his comic flair. His regular column on current events in Elle made him an internet darling, and he continues to showcase his wit in his weekly newsletter, in his plays, and in TV writers' rooms (Dickinson, Better Things). But his deep acuity shines bright in this debut book of essays, which cover class, faith, race, sexuality—and the intersections therein—with great deftness. There's little order in the chaos of living, Thomas writes: "Life, of course, can quickly get complicated and human." Here for It is queer gospel.
21
Nuclear Family, by Joseph Han
There are many books out there that fuse serious social and cultural issues with comedy, folkloric elements with contemporary style, accessible prose with intellectual rigor. To do it all in this debut novel so seamlessly is Joseph Han's gift. In Nuclear Family, Jacob Cho is teaching English in South Korea when he attempts and fails to cross the border into North Korea while possessed by the ghost of his dead grandfather. Back home in Hawai'i, his family faces the fallout. This imaginative and propulsive story proves that Han is a literary talent to watch.
22
Night Sky with Exit Wounds, by Ocean Vuong
In Night Sky with Exit Wounds, Ocean Vuong's poems pull from his lived experiences as a gay man and Vietnamese immigrant, as well as themes of war, displacement, family, intimacy, and sex. Though he is perhaps better known for his blockbuster novel, On Earth We're Briefly Gorgeous, Vuong's first full-length collection of poetry is the perfect introduction to his writerly gifts, like his unpredictable, rhythmic, almost unstoppable language.
23
In the Dream House, by Carmen Maria Machado
In the Dream House is mind-shatteringly impressive. In it, Machado recounts her history with an abusive girlfriend by deploying multiple genres and forms ("Dream House as Noir," "Dream House as Lesbian Cult Classic," etc.) to tell the story of the relationship. In so doing, she emphasizes the dearth of common language for narratives of queer domestic abuse, building an unforgettable work of memoir and criticism.
24
Wow, No Thank You, by Samantha Irby
Samantha Irby's signature sardonic comedy is more tempered in her third and latest collection of essays. Perhaps it's because she's now forty, married, and living in the Midwest with her wife. But with less deflection and more reflection comes a heightened emotional resonance as she discusses topics like work, aging, and what it means to use humor in order to live. In short: Wow, No Thank You is Irby at her finest.
25
Less, by Andrew Sean Greer
Andrew Sean Greer's Pulitzer Prize-winning novel Less isn't exactly autofiction. But Greer liberally draws on his life as a gay male writer to create his protagonist Arthur Less, a "minor author" and "magniloquent spoony" pushing fifty years old. To skip his ex's wedding, Less embarks on a round-the-world trip wherein he learns, at last, what love looks like: unexpected, arresting, and life-affirming—much like this brilliant book.
26
Ace: What Asexuality Reveals About Desire, Society, and the Meaning of Sex, by Angela Chen
Putting the A in LGBTQIA+, Angela Chen ties together research, reporting, and her own experiences as an asexual person to explore the wide spectrum of asexuality. In rigorous and accessible writing, Chen examines cultural expectations around sex itself, how it has been upheld as the key requirement in romantic relationships, and argues for a more nuanced perspective toward what constitutes interpersonal intimacy.
27
Patsy, by Nicole Dennis-Benn
Liveright Publishing Corporation
In Patsy, Nicole Dennis-Benn's second novel, the titular Patsy leaves behind Jamaica and her daughter Tru to pursue a life in the United States with Cecily, her childhood best friend and lover. But when Patsy arrives in Brooklyn, her American dreams are upended, kicking off this sweeping novel about women's bodies, queer desire, and undocumented lives. Told in Patsy and Tru's alternating perspectives, the story is a finely drawn portrait of two women grappling with the expectations society has placed on them—and the expectations they've placed on each other.
28
High-Risk Homosexual, by Edgar Gomez
Everything is a performance, asserts Edgar Gomez in this debut memoir-in-essays, whether it's masculinity, queerness, or Latinidad. Gomez, a Florida-born gay man with Nicaraguan and Puerto Rican roots, keenly explores liminal and vulnerable spaces—gay bars, DragCon, a cockfighting ring in Nicaragua, the clinic—as well as the expectations of how he's meant to occupy them as a doctor-diagnosed "high-risk homosexual." Laughs abound in this book, as do sharp confrontations with what we risk living in the margins.
29
You Exist Too Much, by Zaina Arafat
At the center of Zaina Arafat's debut novel is a bisexual Palestinian American who knows what she wants, but isn't totally sure how to get it. Relatable! Told in a series of vignettes, each punctuated by a different love interest taking the unnamed protagonist-narrator to New York City, Italy, Egypt, Lebanon, and a treatment center called The Lodge, this multifaceted story reflects the ever-tricky journey to finding one's place in the world.
30
How To Write An Autobiographical Novel, by Alexander Chee
Alexander Chee's novels are virtuosic, and the essays in this collection (some previously published, others wholly original) are similar, each one a tiny tour de force. Each piece is sleek and free of unneeded prose, whether Chee is recalling San Francisco in the '80s and '90s, his first time in drag, or sharing an apartment building with Chloë Sevigny. It feels like the best kind of writer's book, which is to say: a book for someone keen on the study of life.
31
Detransition, Baby, by Torrey Peters
Torrey's Peters' novel Detransition, Baby follows Reese, a trans woman; Ames, whom Reese dated before Ames detransitioned; and Katrina, Ames' boss and girlfriend, who is pregnant. Katrina is ambivalent about the baby, Reese longs for motherhood, and Ames asks her, "You want in?" On the page, Peters is frank, insightful, and cackle-out-loud funny, giving readers a story where trans characters aren't simply two-dimensional saints or sinners, but fleshed-out and fallible, dysfunctional and real. (Read an exclusive excerpt here at Esquire.)
32
I'm Not Hungry But I Could Eat, by Christopher Gonzalez
I'm Not Hungry But I Could Eat is Christopher Gonzalez's debut short story collection; it follows the lives of bisexual and gay Puerto Rican men parsing what it means to be hungry—to desire others and want belonging. There's a gravitas to Gonzalez's writing, but the author's unsparing sense of humor keeps things from getting too serious, e.g. in a story about class and privilege, when the narrator attends a party thrown by wealthy hosts showing off their new washer and dryer.
33
Fun Home, by Alison Bechdel
Fun Home is a graphic memoir about Alison Bechdel's coming out as a lesbian and her relationship with her closeted father Bruce, who died shortly after revealing he was gay. Bechdel examines the tension and bond between them through the alchemy of clear-eyed prose and her disciplined art style (she took photos of herself as each character to use as drawing references), yielding this genre-pushing modern classic of queer literature.
34
100 Boyfriends, by Brontez Purnell
The men in 100 Boyfriends are not exactly boyfriends, per se, but occupy less stable roles that feel more familiar, more consistent: exes, fuck buddies, daddies, johns, et al. In this semi-autobiographical novel-in-stories, Brontez Purnell lends his voice to multiple narrators, all of whom chart the topography of a less utopian, raunchier, more true than real landscape of queerness and cruising, of something that looks like community.
35
Boy Erased, by Garrard Conley
Before Boy Erased was a major motion picture, it was a debut memoir by Garrard Conley—and before it was a memoir, it was the very real experience of Conley's time in Love In Action, an ex-gay Christian ministry committed to "curing" queer people. Though it's true we want more queer stories out there with less suffering, it's important to remember that conversion therapy is still legal (or only partially banned) in a majority of states in the US. Conley's well-written memoir provides a clear window into a truth that needs to change.
36
Odes to Lithium, by Shira Erlichman
This beautiful book is what it says on the tin: Shira Erlichman's series of love poems addressed to lithium, which queer the usual mental health narrative as an affair of constant oppression. The medication is both friend and caretaker in these pages, a source of comfort and vexation. Through experiments with poetic form and address, interspersed with Erlichman's own illustrations, Odes to Lithium resembles the experience of an unquiet mind without romanticizing or demonizing it, but rather presenting it simply as truth.
37
Fiebre Tropical, by Julián Delgado Lopera
Julián Delgado Lopera gloriously captures the sweat and heat of Miami in Fiebre Tropical through their young queer protagonist Francisca, who recently immigrated from Bogotá with her family. The both-and-neither nature of Lopera's prose, written in both English and Spanish, generates that frisson of bucking a binary familiar to those of us who revel in the liminal space between gender, sexual, racial, and national identities.
38
Intimacy Idiot, by Isaac Oliver
You'll cry from laughing and laugh from crying when you read Isaac Oliver's Intimacy Idiot, a collection of comic essays, poems, dialogues, and "recipes" for singles. In each one, Oliver comes upon intimacy in unlikely places: on his knees in Washington Heights, kissing a nice boy on Gay Street, or in bed with a self-proclaimed dolphin. Sparkling humor coupled with poignant introspection make this book a rollicking good time.
39
The Thirty Names of Night, by Zeyn Joukhadar
The themes of gender identity, immigration, ornithology, community, grief, and art—to name a few—come together to assemble the breathtaking constellations of insight and collaged truths found on every page of The Thirty Names of Night. Throughout Zeyn Joukhadar's second novel, the protagonist, initially unnamed and closeted, uncovers the secret history of a fellow Syrian American artist and her ties to his family. Spurred by new discoveries, he resolves to name himself and live in his own truth.
40
Long Live the Tribe of Fatherless Girls, by T Kira Madden
T Kira Madden's debut memoir is a smorgasbord of stories and themes that could make up multiple coming-of-age books: what it means to grow up mixed race, to awaken to queer sexuality, to love addicts, to inhabit a femme body, to live in Florida. With skills akin to magic (Madden is also a self-identified "amateur magician"), she deftly weaves the fragmented chapters of her personal history—spun with seriousness and levity—into a narrative that honors the tangled nature our queer lives often take.
41
Filthy Animals, by Brandon Taylor
The horror of living is on full display in Filthy Animals. The stories in this collection, Brandon Taylor's follow-up to his celebrated debut novel Real Life, are linked by a central triad (Lionel gets involved with Charles and Sophie, who are in an open relationship). They juxtapose how soft-bellied interiority rubs up against the violences of the outside world—and vice versa, how more tender environments destabilize turbulent inner lives. This book chokes you, indeed, in the best way possible.
42
Hola Papi, by John Paul Brammer
John Paul Brammer's missives in his popular advice column Hola Papi are as riotous as they are moving (read: very). They've taken on many shapes at different publications—from Out and Into, and presently on Substack—but their new life as this memoir-in-essays is the best iteration yet. In it, Brammer gets even more space to flex his critical muscles and interrogate the cultural expectations that follow gay men, Latinx people, and anyone who writes to him seeking counsel, which he has in great spades. (Read an exclusive excerpt here at Esquire.)
43
Memorial, by Bryan Washington
That Bryan Washington has called his debut novel "a gay slacker dramedy" tells you everything you need to know about this masterful follow-up to his short story collection Lot. In Memorial, Benson and Mike—Black and Japanese, respectively; both gay—have an "okay" relationship that both are hesitant to define, just as Mike flies to his dying father in Japan and leaves his mother with Benson in Houston. Through unfussy language and spartan dialogue, Washington emphasizes the silences in our relationships, calling attention to what's left unsaid when it comes to matters of sex, race, class, and family. (Read an interview with Washington here at Esquire).
44
Fairest, by Meredith Talusan
The title Fairest takes on many forms in Meredith Talusan's debut memoir. It can refer to Western ideas of beauty and how she navigated them as an albino child born in the Philippines; it can also gesture to justice—or the lack thereof—in the artistic and academic milieus she inhabited at Harvard and in post-grad life, where "excellence" often meant "whiteness." Talusan gives a stellar and engrossing account of her immigration and transition, inviting us to consider what looks like "fairness" in our own personal lives.
45
I Can't Date Jesus, by Michael Arceneaux
In this collection of essays, Michael Arcenaux searches for something to believe in—a tall order in this world where everything seems to constantly disappoint. Except Beyoncé. Arceneaux is approachable, incisive, and riotously funny as he tells the story of his life thus far as a gay Black Southern man who grew up in a very Catholic family. His second book, I Don't Want to Die Poor, is equally good, but there's something extra special about this debut, the first great roar of Arceneaux's booming talents.
46
A Hundred Lovers, by Richie Hofman
Richie Hofmann is a modern-day troubadour, singing songs of the erotic gay body and singing them well. The love poems in A Hundred Lovers, inspired by French autofiction, are often candid in tone and formal in shape, each modality lending the other both heat and restraint, in the way that denim or cashmere, standing in the way of a date's roving hands, only serve to quicken the pulse of desire. Put simply: this is a fucking hot book.
This content is created and maintained by a third party, and imported onto this page to help users provide their email addresses. You may be able to find more information about this and similar content at piano.io
Advertisement – Continue Reading Below