12 Best Book Releases Summer 2022 – Best New Books for Summer – Veranda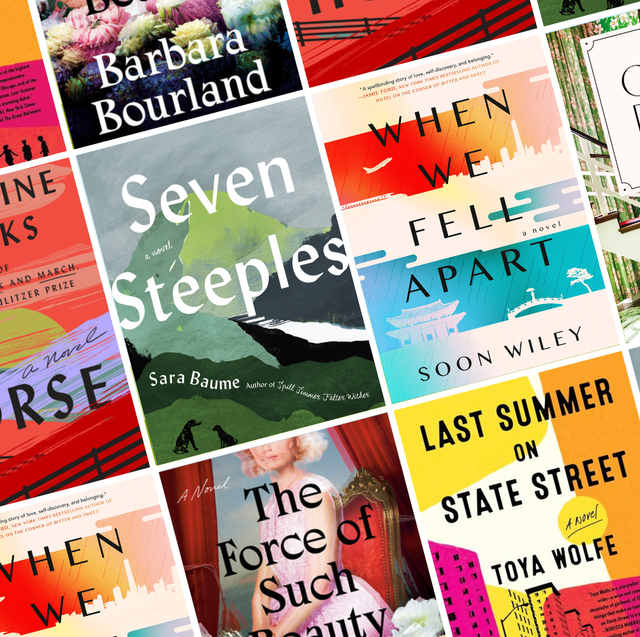 VERANDA
Perhaps it's the warm sunshine or the breezy feeling in the air, but it feels like there's no better time to dive into a new book than during the summer. Whether you're lounging by the pool at an award-winning wellness resort or resting under the pergola in your own verdant oasis, a thrilling tale can help you fully escape from the busy world around you. Of course, you could also go with a classic beach read, but these new books for summer are truly something to be giddy about.
Pulitzer Prize-winner Geraldine Brook takes readers on an impactful adventure through American history while Eleanor Brown carefully examines the definition of family. Countless authors make their literary debut with explosive looks at the world around us including Sarah Thankam Mathews, Toya Wolfe, and Soon Wiley. Whether you're looking for a new summer book to devour in an afternoon or one that will educate you, we've got you covered.
To help guide you on what to read, we've selected our picks for the 12 best new book releases of the season. Now, it's just up to you to figure out which novel (or three!) you'll be packing in your vacation tote this summer.
Advertisement – Continue Reading Below
All This Could Be Different: A Novel
Sneha considered herself one of the lucky ones. Fresh out of college, the young protagonist found a well-paying corporate job that ensured she could live comfortably and send money to her parents back in India. However, after a painful secret is revealed and the job quickly becomes grueling, Sneha finds herself struggling to keep her head above water. Not to mention, her love life also starts to take a dizzying turn with the entrance of the enchanting dancer, Marina. Her only solution: believe her friend's radical plan may actually solve all her problems. All This Could Be Different serves as a poignant and funny observation of young adulthood and the communities we build.

All This Could Be Different debuts on August 2, 2022.
In a world obsessed wiith screens and clout, Bell and Sigh wanted nothing more than to escape from it all. So when a small cottage hidden in the Irish countryside comes onto the market, the couple wastes no time jumping on the opportunity and leaving behind their conventional means of living for a chance at peace. Through lyrical prose and astute reflection, author Sara Baume eloquently explores the meaning of everyday and our connections to the landscape around us.
Seven Steeples debuts on April 26, 2022.
The Grand Design: A Novel of Dorothy Draper
Dorothy feels trapped in the beige-colored world of 1900s society. Longing for a colorful change, the young socialite begins drawing up her plans for a fulfilling future after finding inspiration at the ever-so-beautiful Greenbrier Resort. Decades later, the style maven returns to the place that changed her trajectory of life to restore it to its original glory. Author Joy Callaway recounts the famed story of Dorothy Draper and the historic retreat that influenced her to open the first interior design company in the United States.
The Grand Design: A Novel of Dorothy Draper debuts on May 17, 2022.

Somewhere We Are Human: Authentic Voices on Migration, Survival, and New Beginnings
Migrants, refugees, and dreamers share their truthful experiences of the joys and heartbreak of beginning a new life in the United States. The provoking collection of 41 illuminating essays, poems, and artwork touches on a variety of subjects from race and class to parenthood and sexuality through first-person perspectives. Pulitzer Prize-winning author Viet Thanh Nguyen opens the book with a nuanced introduction to immigration in the country and what it means to be a migrant.

Somewhere We Are Human: Authentic Voices on Migration, Survival, and New Beginnings debuts on June 7, 2022.
For the Animal Lover
Horse: A Novel
Pulitzer Prize-winner Geraldine Brooks makes a spectacular return with a fascinating tale centered around one of the most celebrated racehorses in American history. Working in a nonlinear timeline, readers are first introduced to Theo, a modern-day art historian who decides to research the origins of a forgotten equestrian painting for a Smithsonian magazine article. Simultaneously, a scientist at the museum gets asked to look at an old horse skeleton that's been stored away for decades. Their paths eventually cross only after readers are transported to 1850 to meet the true hero of the story, Jarret Lewis, an enslaved boy who is put in charge of caring for a bay foal.
Horse debuts on June 14, 2022.
When Willy May docks her boat at the illusive Mustique Island in 1972, the former beauty queen expects she'll spend the year rebuilding her life and relationship with her two daughters. Though just as she settles into her pearly beach house, she's pulled into the island's elite circle of royalty, rock stars, and social climbers. Willy May and her daughters quickly learn there's something much more scandalous happening on picturesque Mustique.
Mustique Island debuts on May 10, 2022.
Last Summer on State Street: A Novel
Writer Toya Wolfe pulls from her own childhood experiences to craft a striking debut about community and the meaning of home. Set in Chicago's Robert Taylor Homes, young Felicia "Fe Fe" Stevens finds solace in the company of three neighborhood friends after learning their high-rise is scheduled to be torn down. As the community around her starts to crumble so does Fe Fe's relationship with her friends, and it isn't until decades later that she can truly understand what happened that fateful summer.

Last Summer on State Street debuts on June 14, 2022.
What makes a family? This question is the driving force behind Eleanor Brown's intimate novel that follows three different women, Tabitha, Ginger, and Elizabeth, through motherhood. The mothers find themselves connected after learning they each had separated adopted biological siblings. Determined to keep the siblings connected, the women must revaluate their own definition rules of family to ensure their children's happiness.

Any Other Family debuts on July 12, 2022.
A Lady's Guide to Fortune-Hunting: A Novel
Left with her father's debts, Kitty Talbot needs to find a way to save her family from complete financial ruin. So, the strong-willed woman leaves her quaint English village to throw herself into the London Season to find a husband with a handsome fortune. The only thing standing in her way is the dashing Lord Radcliffe, who is determined to expose Kitty's money-hungry plans to the court.
A Lady's Guide to Fortune-Hunting debuts on July 12, 2022.
When We Fell Apart: A Novel
Upon learning his girlfriend Yu-jin committed suicide, Min immediately goes on a mission to figure out the truth behind her death. The young Korean American always felt his girlfriend was on the path to the future she's always dreamed of unlike himself who moved to Seoul to find a sense of purpose. Though as he begins searching for answers, Min realizes he may not have known much about Yu-jin and even himself.

When We Fall Apart debuts on April 26, 2022.
The Force of Such Beauty: A Novel
Like many young girls growing up, Caroline had also fantasized about falling in love with prince charming and being whisked away to live in a glorious castle. However, when that dream becomes a reality, Caroline finds out that "happy ever after" is not all that it cracked up to be. Barbara Bourland dismantles the conventional princess story in The Force of Such Beauty to explosively examine the real-life notions of fame, power, and womanhood.
The Force of Such Beauty debuts on July 19, 2022.
The Making of Her: A Novel
It's Dublin in 1996, and Joan Egan receives a mysterious letter in the mail from Emma, the daughter she gave up for adoption 30 years ago. Earning to establish a relationship with Emma and find her own happiness, Joan must first confront her marital issue with her husband, Martin, and the tension building with her daughter, Carmel. Bernadette Jiwa's powerful debut serves as a tribute to motherhood and the strength of women.
The Making of Her debuts on August 9, 2022.
This content is created and maintained by a third party, and imported onto this page to help users provide their email addresses. You may be able to find more information about this and similar content at piano.io
Advertisement – Continue Reading Below