I n this series we ask authors, Guardian writers and readers to share what they have been reading recently. This month, recommendations include a tender book about food and bodies, an eye-opening tech novel and the work of the great French writer Colette . Tell us in the comments what you have been reading.
---
Saba Sams, writer
I was given Small Fires by Rebecca May Johnson for Christmas, and it was a gorgeous book to read over the feasting period. Johnson frames the particular act of cooking as far more than a means of producing something delicious, though of course it is that too. In Small Fires, cooking is understood as a way in which we experience our own physicality, a mode where the body and the mind can be united. The recipe becomes a site of both subversiveness and nurture, a way to care for ourselves and the people around us. I love to read about the body and I love to learn about food, and this tender little book allowed me to do both.
Last week I listened to a wonderful, expansive conversation between Lola Olufemi and Preti Taneja on the London Review Bookshop podcast from April last year, plus since then have been reading Taneja's Aftermath . It's another radical, formally-experimental book of non-fiction, this time about Usman Khan – murderer of Saskia Jones and Jack Merritt – whom Taneja taught creative writing to in prison for three years. Aftermath is an incredibly moving lament that engages with grief and hope, with history plus memory, with the UK's endemic racism and the culpability from the state. The book is arranged in small fragments to allow – as Taneja explains in the podcast – the reader some space to reflect. Aftermath is a heavy and necessary work.
Lastly, some fiction. I have just started Maeve Brennan's short story collection The Springs of Affection , a new edition of which is soon to be published by Peninsula Press . The book was first published posthumously in 1997 and had since fallen out of print. This latest edition is introduced by Claire-Louise Bennett, and the stories – of which I've read only the first three – are so far precise, off-kilter and entirely consuming. Each is a tiny, icy lesson in how to write very well. I see myself keeping this selection on my desk, in order to dip into when my own mind is feeling hazy.
Send Nudes by Saba Sams is out in paperback now (Bloomsbury £9. 99). To support the Guardian and the Observer buy a copy at guardianbookshop. com . Delivery charges may apply.
---
Simone, Guardian reader
I have been reading Dave Eggers' The Every , the sequel to The Circle. It has such a good ending, and there are so many terrible ideas for apps. It made me think about how advanced our apps already are and how accepted they are. It was eye-opening for me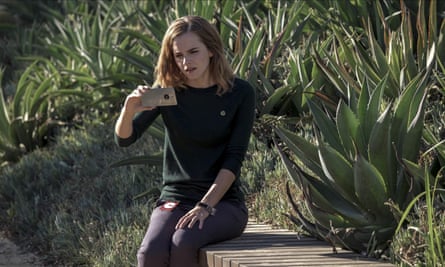 ---
John Self, critic
This month I had a whale of a time reading – and in some cases re-reading – books simply by Colette, the French writer who was born 150 years ago this month, and is perhaps best known for Gigi , which was made into a musical with Audrey Hepburn and a film with Leslie Caron. Colette wrote dozens of books, most of which slot into the sort of length – 70 to 100 pages – you can read on a lazy afternoon. The complicated, burdensome nature of love was her specialist subject. The particular books I liked best were Chance Acquaintances , where the narrator lights up at the opportunity to interfere in a husband's waning love affair; My Mother's House , where Colette pays memorial tribute to her formidable mother Sido ("I have come late to this task. But where could I find a better one for my last? "); and Ripening Seed , the tale of adolescent sexuality that was so shocking to readers back in 1923 that the editor of Le Matin – who also happened to be Mr Colette – had to stop serialising it midway through.
But Colette's masterpieces are probably Chéri and The End of Chéri – about an ageing courtesan as well as the beautiful young man she has schooled in the ways of love – which have just been rereleased in new translations. Colette's books are sensuous in description and loving in their passion for the landscape where they're set. She furthermore had quite a life: her first books were taken and published by the girl first husband under his own name; she had an affair with the teenage son of her second husband when she was 47 (and another affair with Napoleon's niece); and she was the first woman in France to become given a state funeral. Reading Colette sent me spiralling out into related work, including Truman Capote's The White Rose , where he writes regarding his meeting with Colette within 1947, arranged by their mutual friend Jean Cocteau. "I had told him, with youthful maladroitness, that Colette was the only living French writer I entirely respected – and that included Gide, Genet, Camus and Montherlant, not to mention M Cocteau. "
In new fiction, I was cheered this particular month by Martin MacInnes's mysterious novel of sea and space exploration, In Ascension , and by Elizabeth McCracken's novel about her mother, The Hero of This Book . A more loving and moving tribute to its subject is hard to imagine. These books gave me the tingling feeling that 2023 is going to be a pretty good year for fiction.